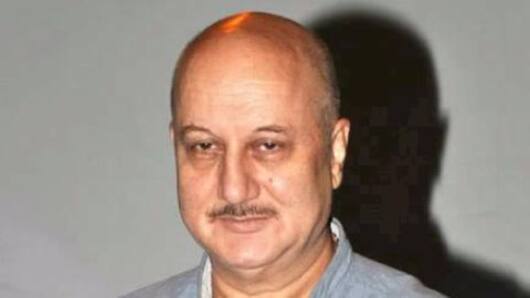 Anupam Kher claims Pakistan denied him visa
Actor Anupam Kher has alleged that the Pakistan High Commission in New Delhi has denied a visa to him to attend Karachi Literature Festival.
The Karachi Literature Festival is scheduled to be held on 5 February.
Kher claimed that the Pakistan Ministry of Foreign Affairs had red flagged his name to the Pakistan High Commission in New Delhi.
Denied visa because I'm a Kashmiri Pandit: Kher
Anupam Kher said that 18 people had applied for the visa and only his visa had been rejected.
He said he was "sad and disappointed" and further blamed the Pakistani authorities for treating him unjustly.
He claimed that "my visa been denied because I speak about India's rich tradition of tolerance or I am a Kashmiri Pandit who may expose the Pakistan terror nexus?"
Kher says 'no reciprocity' from Pakistan's side
Anupam Kher, who was lately honoured with Padma Bhushan was scheduled to participate in "at least two sessions and his name figured prominently in the festival schedule" in Pakistan.
He said that the visa issue had left the Pakistani organisers shame-faced and they had offered apologies.
He also said that Pakistani artists were welcomed in India but "there is no reciprocity".​
Love Entertainment news?
Stay updated with the latest happenings.
Yes, notify Me
Kher mired in other debates
Credits:
On 31 January 2016, Congress leader Shashi Tharoor and Kher had locked horns on Twitter for Kher's comment that he was scared to "openly say he is a Hindu".
Tharoor said he was a 'Sangh' Hindu while Kher called him 'Congi Chamcha'.
Kher was also ridiculed when people posted his 2010 comments called Padma Awards as 'inauthentic' and then receiving it himself this year.
Kader Khan asks what Kher did to deserve Padma-Bhushan
Veteran actor Kader Khan had hit out asking "What has he done except singing praises for (Prime Minister) Narendra Modi" to get the Padma Bhushan award.
Pakistani authorities say Kher didn't apply
While veteran actor Anupam Kher blamed the Pakistani foreign minister for denying him visa to visit Pakistan, the Pakistani officials claimed that the actor had not even applied for a visa.
They said that he had not submitted any visa application.
Pakistan High Commission spokesperson Manzoor Ali Memon asked the media to "check from him if he has any receipt" for visa application.
Kher says 'no dates' after visa comes through
Following up on the issue of denied visa to Anupam Kher, the Pakistani authorities called the actor to offer him the visa to attend the Karachi Literature Festival.
However, visibly upset with the whole issue he said that even though he appreciated that he had been called and offered a visa but he couldn't attend as "unfortunately, I've given away those dates now."