Entertainment
22 Dec 2017
'Tiger Zinda Hai' review: Should you watch this Salman-starrer?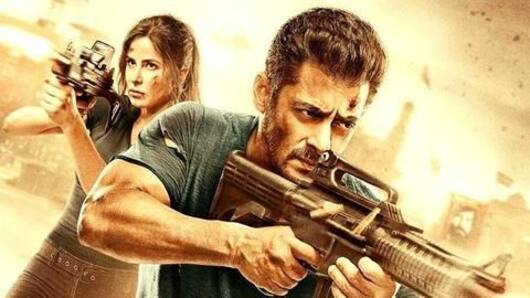 After a whole month of not even a single good movie to watch, Salman Khan's 'Tiger Zinda Hai' comes as a fresh breath of air for all the movie-buffs.
While the action-sequels have greatly appeased some critics, some are just questioning the missing logic in the film.
But whatever be the case, read our take before you decide to head out to watch it.
In context
'Tiger Zinda Hai' movie review
NDTV
'Do you need logic when it's Salman?'
The NDTV critic puts forth the pertinent question which also sums up how illogical the film must have been.
"Its surface nous cannot conceal the sheer purposeless of all the noise Tiger Zinda Hai generates. Maybe, at least for some, the star power on the show might help the film paper over its patchy screenplay, " he wrote.
He gave it 2 on 5.
Indian Express
'Salman Khan starrer is an enjoyable fare'
Call it little mercies or sheer politeness, but the most ruthless critic Shubhra Gupta of IE, doesn't have harsh things to say about the film.
"The film goes several steps ahead in creating a channel between India and Pakistan: if their spies can bond in the face of a common-enemy, why not the two estranged-nations?" she says.
That's a lot of praise!
Love Entertainment news?
Stay updated with the latest happenings.
Notify Me
Hindustan Times
'Salman on a horse is lethal than ISIS'
According to Hindustan Times, 'Tiger Zinda Hai' is exactly what fans would want to associate Salman with, so no disappointments on that front.
"In a film dependent on Tiger's charisma, Katrina steals the show in a prolonged action scene. Her body double plays a role in it, still, it's a sequence you can cheer for," he further said.
But, he gave it just 2.5 on 5.
Verdict
Editor's take
Despite the film being completely deprived of logic, the performances of both the actors have been lauded immensely.
The film can certainly make for a good one-time watch if you are in for some action-packed thriller.
However, if you are a logic-seeker, you would be disappointed. So watch it for the love of Bhaijaan, if not for anything else.