Entertainment
12 Jan 2018
What should be your weekend watch: Kaalakaandi or Mukkabaaz?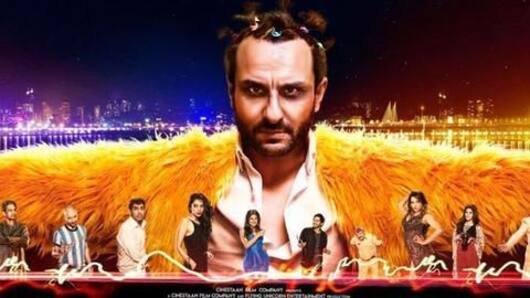 After a disappointing December, January comes with a lot of good surprises for the movie buffs. Two stellar movies have released today, which would make your weekend pretty exciting.
Interestingly, both 'Mukkabaaz' and 'Kaalakaandi' received praises even before they were released.
Before you make a decision, let's see what the critics have to say about the Anurag Kashyap and Akshat Verma's directorials.
In context
What should be your weekend watch?
Indian Express
'Mukkabaaz packs a punch; Saif steals the show in Kaalakaandi'
Shubhra Gupta of Indian Express gave 'Mukkabaaz' a 3 star. She said that with this movie, Kashyap is back in his zone. It melds sports, caste and romance beautifully, though it falters when "it slips into melodrama."
As far as 'Kaalakaandi' is concerned, she feels that Saif was the only saving grace. She found it funny in bits, and gave it a measly 2.5 stars.
The Hindu
'Kaalakaandi is a bland narrative; Mukkabaaz breaks stereotypes'
According to The Hindu, Saif is the only bright spot in an otherwise bland movie 'Kaalakaandi' that has neither freshness, depth nor insolence. Even the black humor could not save the day for the movie.
For 'Mukkabaaz', she felt that the movie did manage to break the stereotypes by depicting nepotism, casteism in sports and life, in general. She also appreciated the star cast.
Love Entertainment news?
Stay updated with the latest happenings.
Notify Me
NDTV
'Saif makes his character work; Mukkabaaz is Anurag's greatest films'
According to NDTV, 'Delhi Belly' scripter Akshat's maiden directorial venture has the same spirit as his 2011 hit. But, its tone is remarkably different. It has interesting takeaways, and NDTV gave it a 3 star.
Mukkabaaz, he feels, is Kashyap's greatest work till date.It is made with the right mix of vintage sensibility and modern skills. He appreciates the political undertone of the movie.
Verdict
Editor's take
If we go by what the critics have said, both 'Kaalakaandi' and 'Mukkabaaz' are certainly a one-time watch.
If you are a true-blue Bollywood lover, this week you are spoilt for choice.
But if Saif is your favorite, then you should not skip 'Kaalakaandi'. The movie might not be his greatest work, but he would surely be a treat to watch.