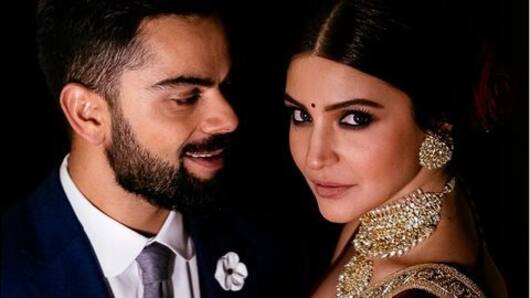 After scoring 150 runs, Virat kisses his ring for Anushka
Virat Kohli has been setting major relationship goals since the day he got married to Anushka. His public gestures for Anushka are often endearing.
One such instance happened today. Team India is currently playing a match against South Africa. When Virat scored 150 runs today, he took out his engagement ring, which he wears around the neck, and kissed it.
How cute!
Virat and Anushka's fairytale wedding
Late last year, Virat and Anushka took the plunge away from the hustle bustle of the Mumbai city, in Tuscany on December 11, 2017.
They then threw lavish reception parties in 2 cities - Delhi and Mumbai.
Both the stalwarts made the best of their ceremonies and enjoyed every bit to the fullest.
She also accompanied him to South Africa for a few days.
Now, Anushka is back and busy shooting for 'Zero'
After a few days of stay with Virat in Cape Town, Anushka is now back to the grind to resume shooting for 'Zero', her next big film with Shah Rukh Khan and Katrina Kaif.
She recently took to Instagram to announce her arrival and how the crew welcomed her.
Ironically, Anushka has been criticized every time Virat's bat does not do the talking.