Entertainment
22 Jan 2018
Delhi rocked by violence over Padmaavat, Gujarat, Rajasthan affected too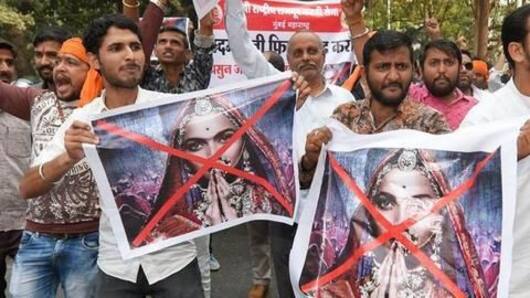 Three days before Padmaavat's scheduled release, violent protests have rocked parts of India, including the capital.
In Delhi, members of Karni Sena, Bajrang Dal and other fringe groups vandalized toll booths and buses and blocked roads. Similar scenes unfolded in Gujarat.
In Rajasthan, thousands of Rajput women threatened to commit 'jauhar.'
Despite approval by the SC, law and order has gone for a toss.
In context
Violence in several places before Padmaavat's scheduled release
Controversy
The movie that shook India
Padmaavat, earlier Padmavati, has been one of India's most controversial movies. Sets were vandalized, director Sanjay Leela Bhansali was slapped, the actors received death threats and a bounty was announced for cutting off Deepika Padukone's nose.
All this was based on rumors that the movie insulted Rajput queen Padmini, on which it is based.
The case even reached the SC, which refused to intervene.
Changes
A long-drawn battle with the censor board
Then there were issues with the censor board, which returned its certification application citing "technical issues."
When it was finally passed after several changes, it was banned by Gujarat, Rajasthan, MP and Haryana.
But the SC stayed the ban and cleared it for an all-India release.
Amusingly, the makers have now covered Padukone's bare midriff with VFX, seemingly to give her a "respectable" look.
Love Entertainment news?
Stay updated with the latest happenings.
Notify Me
NCR
100 NCR theaters have refused to screen Padmaavat: Karni Sena
But people aren't satisfied. Protesters in Noida vandalized the DND toll plaza and assaulted an operator.
In Gurgaon, they burnt effigies of Bhansali, insisting he has "distorted historical facts."
Traffic was blocked at Sohna Road and MG Road.
Protesters also asked cinema halls not to screen the movie. About 100 have apparently agreed.
At least 15 were arrested and FIRs filed against over 200.
Gujarat
Bus services cancelled, police deployed, minister says protests "natural"
Scenes were similar in Gujarat. Protesters set buses afire in Gandhinagar, Surat, Kheda Banaskantha and elsewhere. The Ahmedabad-Indore Highway and others were blocked.
Apart from regular police, teams of State Reserve Police and Rapid Action Force were deployed. Several people have been arrested.
Bus services in Mehsana, Patan, Gandhinagar and many other places were suspended.
State minister Bhupendrasinh Chudasama called the protests "natural."
Rajasthan
In Rajasthan, thousands threaten to set themselves on fire
Meanwhile, in Rajasthan, Rajput women took charge: thousands went on a 'Chetavani Rally' in Chittorgarh, brandishing swords and threatening to commit 'jauhar' on January 24.
NDTV reports 1,908 women have already registered for setting themselves on fire.
Theaters which screen the movie will be responsible for the consequences, warned the Karni Sena.
It has also called for a nationwide shutdown on January 25.