Entertainment
13 Mar 2018
New on Netflix: The must-watch shows and movies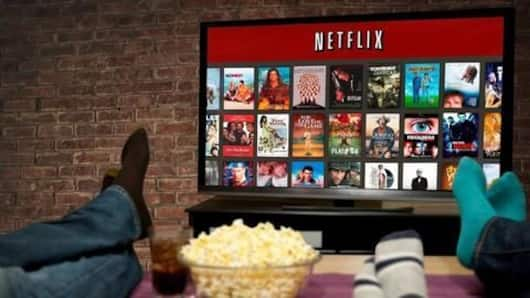 Netflix, the leader of the streaming revolution, certainly knows how to keep its subscribers hooked.
With the continuous addition of new shows and movies, the streaming giant never really gives a chance to its fans to feel monotonous.
As always, Netflix is once again renewing its library and we have picked out the best of the upcoming content for you.
In context
Here's your guide to Netflix's newest offerings
Best of the lot
You can absolutely binge watch these latest series on Netflix
On My Block: To be released on 16 March, it is a coming-of-age series of four streetwise teens living in gritty inner-city Los Angeles. Their lifelong friendship is put to test as they begin high school.
Nailed It: This new Netflix show has three amateur bakers competing to recreate professional cakes for a prize money worth $10,000. It released on 9 March.
More
Also, do not miss out on these intriguing shows
Jessica Jones - Season 2 (Release date - 8 March)
My Next Guest Needs No Introduction With David Letterman: Malala Yousafzai (Release date - 9 March)
The Mechanism (Release date - 23 March)
Trump: An American Dream - Season 1 (Release date - 30 March)
A Series of Unfortunate Events - Season 2 (Release date - 30 March)
Love Entertainment news?
Stay updated with the latest happenings.
Notify Me
Indian Documentary
Martyrs of Marriage: Film on anti-dowry law now on Netflix
Martyrs of Marriage, a 2016 documentary film by Deepika Bhardwaj, that explores the evils of India's anti-dowry law - IPC Section 498A - is now streaming on Netflix.
In a country known for its deep-rooted misogyny, patriarchy and violence against women, the film presents the rarely-discussed other side - how in trying to protect women, Section 498A is actually victimizing men and their families.
A promising collection
All the movie buffs are in for a treat
Annihilation: This Natalie Portman starrer released on Netflix on March 12. It is a gripping tale of a group of military scientists who enter the "Shimmer", a mysterious quarantined zone full of mutating landscapes and creatures.
Game Over, Man: Slated to release on March 23, the action comedy follows three friends who are trying to get their video game financed.
Rest of the best
Netflix has a long list of interesting films
Ravenous (Release date - 2 March)
The Outsider (Release date - 9 March)
Benji (Release date - 16 March)
Roxanne Roxanne (Release date - 23 March)
First Match (Release date - 30 March)
Comedy
Shows that will certainly tickle your funny bone
Malena Pichot: Estupidez Compleja (Release date - 2 March)
Gad Elmaleh: American Dream (Release date - 6 March)
Ricky Gervais: Humanity (Release date - 13 March)
The Standups - Season 2 (Release date - 20 March)
Sofía Niño De Rivera: Selección Natural (Release date - 30 March)