Entertainment
Google doodle celebrates Burman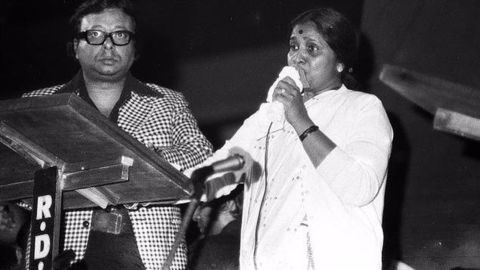 Internet giant Google celebrated RD Burman's birthday with a surprise doodle on its webpage today.
In it, he was appreciated for the contributions he had made to the music industry, by bringing a melange of diverse genres to Bollywood's music.
He was also highly acclaimed for his distinct ways of producing music, from using bamboo, to beer bottles, and even sand paper.
In context:
Celebrating RD Burman's 77th birthday
Profile

The RD Burman profile
Rahul Dev Burman was a celebrated film music composer during the 1960's through the 1990's.
He was instrumental in introducing the kind of western music that the Indian music industry had not experimented with earlier.
His ever-popular hits include composing for movies like 'Shaan', 'Sholay' and 'Deewar', all of which hit the Indian cinema screen in the 1970's and were celebrated blockbusters.
RD Burman was born on June 27th, 1939, in Calcutta, to singer Sachin Burman and Meera.
With a musically inclined family, and being brought up surrounded by performing artists, Burman soon composed his first song for the film 'Funtoosh' at the tender age of 9.
He was trained under Ali Akbar Khan to play the sarod, and later years saw him learn the harmonica.
Love Entertainment news?


Stay updated with the latest happenings.
RD Burman was nicknamed

RB Burman was nicknamed ' Pancham ' as a toddler. Various stories surround this name, one citing Burman , as a crying infant, being named after the fifth note of the Indian scale. Another says Ashok Kumar drew the name after Burman called him 'Pa'.
Career launch

1958: Burman
RD Burman saw his career launch in 1958, with his first few few stints in the Indian music industry assisting his father on the sets of various movies.
His first stint as a music director for the movie 'Chote Nawaab' in 1961 saw him establish his professional career.
Throughout his career, he even dabbled with acting in movies such as 'Bhoot Bangla'.
Burman experiments unconventional methods for his music

In his song ' Chura Liya ', Burman spent a whole night on the balcony of his room recording the sound of raindrops pattering

down

, to get the right sound for the song, and even used the sound of spoon hitting glass.
Achievements

Milestones spanning Burman
Burman's first major break was as a music director for the movie 'Teesri Manzil' in 1966.
From thereon, he was well-established as a music director, and during the 1970's, was touted to be one of the most prolific music directors in the industry.
He was popular for bringing different music genres together in his songs, right from pop, jazz, disco, to electronic rock.
Love Entertainment news?


Stay updated with the latest happenings.
27 Jun 2016

Google doodle celebrates Burman