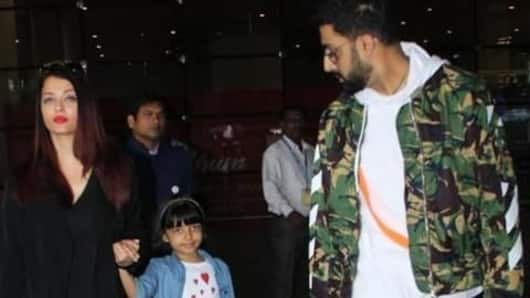 Abhishek-Aishwarya's fight that didn't happen. Will rumor mills slow down?
A rather dull moment of celebrity couple, overworking paparazzi and Mumbai airport. Put them all together, and what do you get? Lots of rumors.
On Monday, a publication called India Forums took to Twitter to point out a 'public fight' between Abhishek Bachchan and Aishwarya Rai at Mumbai airport. The only catch? The fight never happened.
Bachchan was quick to quash the said rumors.
Abhishek Bachchan shuts down the rumor
With due respect. Please refrain from making up false stories. I understand the need to continously post, but would really appreciate it if you could do so responsibly and without mischievous intent. Thank you.

— Abhishek Bachchan (@juniorbachchan) July 23, 2018
What was the couple upto in the past few days?
Bachchan had gone to attend the semi final of the FIFA World Cup in Russia with father, Amitabh Bachchan, and his nephew and niece.
Meanwhile, Aishwarya went to Paris on a work assignment and their daughter Aaradhya accompanied her there.
The couple met up in London for a short vacation after that.
Rumor mills can stop churning. Clearly, all is well at Bachchan's home!
Love Entertainment news?
Stay updated with the latest happenings.
Yes, notify me
Looking Back: Abhishek's history of classy retorts
Sadly, this is not the first time Abhishek received unnecessary disdain.
A few months ago, a troll tried making fun of him because he lived with his parents.
To this, Bachchan replied, "It's the proudest moment for me to be able to be there for them, as they have for me. Try it sometime, you might feel better about yourself."
At least leave Aaradhya Bachchan out of it
Not long ago, Aaradhya's visit to a wedding with her mother Aishwarya, irked a Twitter user. (like it's their business!)
The user said, Abhishek and Aishwarya were going for beauty without brains, as Aaradhya was always seen attending functions.
To this, Bachchan replied schools remain closed on weekends and her daughter does have busy weekdays.
Clear boundaries when it comes to family
@Mayankaryan084 don't like my movies? That's cool. Will work harder to make movies you like. Bringing my daughter into it is NOT cool.

— Abhishek Bachchan (@juniorbachchan) June 16, 2015