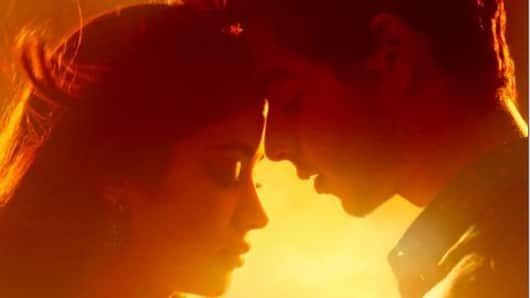 Impressed by Janhvi, Lata Mangeshkar wants to sing for her
Janhvi Kapoor, Boney Kapoor and Sridevi's daughter, who recently shot to fame with 'Dhadak' just received a huge compliment from Lata Mangeshkar.
The singer, who has always been close to the Kapoor family, said that she would love to sing for Janhvi.
Lata ji praised the 21-year-old saying that Janhvi is very pretty and a source of joy to Boney Kapoor.
Lata ji is all praises for newcomer Janhvi
"After he (Boney Kapoor) lost Sridevi ji so suddenly, his daughter's debut is a reason for him to smile. Janhvi is pretty. I'd love to sing for her," the veteran singer said. This is obviously a huge compliment for the newbie Janhvi.
Mangeshkars and Kapoors: A bond that runs deep
Lata ji was also pretty candid on how the two families have always been close.
She remarked how she'd often be a part of close family occasions like Anil Kapoor's engagement and praised Sonam Kapoor too for continuing acting post-marriage.
Anil Kapoor, on his part, is paying tribute to Lata ji in his next titled 'Fanney Khan' for which the latter expressed best wishes.
Love Entertainment news?
Stay updated with the latest happenings.
Yes, notify Me
Lata ji tweeted about Anil Kapoor's 'Fanney Khan'
Namaskar. Anil Kapoor ji ek guni abhineta hain. Mere Anil ji aur Boney ji ke saath bahut acche aur pariwarik sambandh hai,une mata aur pita ji se bhi mere acche sambandh the. Main Anil ji ki nayi film ko bahut shubhkaamanayein deti hun. https://t.co/FLWF0IUJXt

— Lata Mangeshkar (@mangeshkarlata) July 20, 2018
Lataji's voice breathed life to characters on screen
Lata ji, who has lent her voice to a host of legendary actresses like Mumtaz, Madhubala, Hema Malini, Jaya Bachchan, Rekha and Sridevi, has been on hiatus for a long time.
In 2015, she sang in 'Dunno Y...Na Jaane Kyun' and again took a break from singing assignments.
If Lata ji sings for Janhvi, she will enter a hallowed group of eminent actresses.
Is music quality to be blamed for Lata Mangeshkar's hiatus?
Lata ji's hiatus might not seem strange, considering her views on current music trends.
She has come out saying that contemporary music in Bollywood is all about the beats and pretty different from her days.
Chastising the music trends as soulless, Lata ji, even in her hiatus gave sage advice saying that singers should practice regularly and try to be creators and not imitators.
Meanwhile, Janhvi is definitely making all the right noises
The 'Dhadak' actress has made a big splash in the industry and we can only expect her to be part of many more movies.
With praise from legends like Lata Mangeshkar, it is certain that she is attracting the right attention.
Lata ji probably sees a bit of Sridevi in her, which is why she decided to sing for Janhvi in the first place.