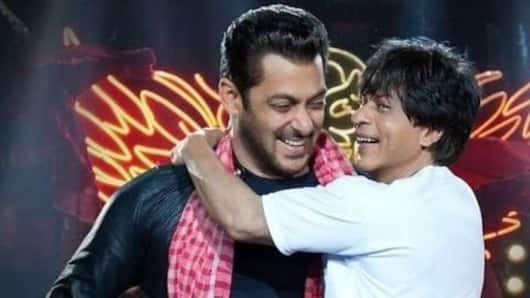 'Dus Ka Dum': Leaked video shows Salman and SRK's love
Shah Rukh Khan will reportedly appear on the finale of 'Dus Ka Dum' on Sony Television with host Salman Khan.
A leaked video that has surfaced on the Internet suggests that the Khans will bring the house down.
They appear to be having a lot of fun on set and Salman-SRK fans can get excited as it promises to be a finale to remember.
Khan-bond: Brothers in arms for years to come
Credits:
The superstar Khans don't seem to have any bad blood between them anymore. It was evident in the camaraderie they displayed on the show.
Shah Rukh was also heard commenting that he and Salman had been brothers for years, and fans cheered. That's so sweet SRK!
We are sure fans of the stars will be counting days for the episode now.
Love Entertainment news?
Stay updated with the latest happenings.
Yes, notify Me
The brawl between Shah Rukh and Salman which broke hearts
Bollywood was once divided into two camps - SRK or Salman. It all started when the duo fought at Katrina Kaif's birthday party on July 16, 2008.
Salman had irked SRK over his reality show ratings, but King Khan's alleged comment on Aishwarya Rai sparked the feud.
Back then it seemed that the friendship was finished forever, but thankfully they made up.
After burying hatchet, Salman and SRK have only become stronger
Credits:
Notably, Shah Rukh later went on to say that the fight was blown out of proportion since they're both big stars.
It would appear he was correct as they made up with a hug sometime around 2015.
Later, Shah Rukh appeared in Salman's 'Tubelight' and the latter has a cameo in his movie 'Zero'.
Now, all is well!
SRK and Salman are kings and we're in awe
Shah Rukh and Salman, despite their feud and friendship, remain two of the most integral parts of Bollywood. SRK's net worth is estimated at around Rs. 3,990 crore while Salman's net worth is around Rs. 1,530 crore as of 2018. They're both kings of Bollywood.