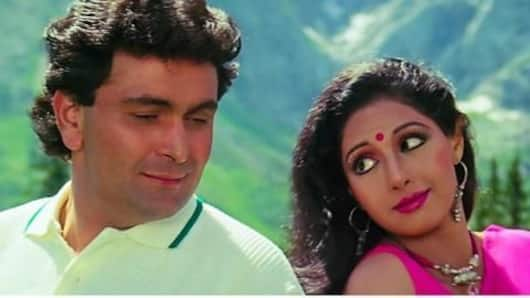 When Rishi Kapoor failed to recognize his 'Chandni' Sridevi
Rishi Kapoor claimed on Twitter that he failed to recognize Sridevi in an old video, leaving Twitterati aghast, since the two have worked in several hits like 'Chandni' and 'Nagina' together.
Kapoor was responding to a clip from a video which a Twitter user shared, and wrote he can't remember either the movie or the actress.
Netizens were quick to jolt his memory.
'Didn't recognize the actor': One user hits back
The clip was from the song 'Dil Se Dil' from the movie 'Kaun Sachcha Kaun Jhootha', and netizens were surprised when Kapoor said he forgot whom he worked with.
@_deepabhatia wrote: "Nobody would have recognised you if she hadn't worked with you in Nagina and Chandni," while @bsmtool wrote: "Actress is Sri Devi. But I didn't recognise the actor."
Kapoor had it coming, maybe!
Love Entertainment news?
Stay updated with the latest happenings.
Yes, notify Me
Rishi Kapoor and Sridevi were one of Bollywood's most-loved pairs
Together, Kapoor and Sridevi starred in five movies. Of these, the memorable ones were 'Chandni' and 'Nagina'.
With the 1989 release 'Chandni', Kapoor and Sridevi became one of the most-loved Bollywood couples. It was helmed by Yash Chopra, and the story of a forbidden love and the obstacles it faced worked like a charm.
In 'Nagina', the snake-woman saved her husband from all troubles.
'Chandni gone forever': Kapoor posted after Sridevi's death
Like many, Sridevi's sudden demise earlier this year shocked Kapoor too. On getting the news, he had expressed grief.
"Henceforth no more Moonlit nights! Chandni gone forever. Alas!" he had tweeted back then.
Later, grief turned to anger and Kapoor was miffed with the way Sridevi was referred to as a 'body'. "Suddenly your individuality gets lost and becomes a mere body??" wrote Kapoor.