Entertainment
Coldplay to perform live in Mumbai?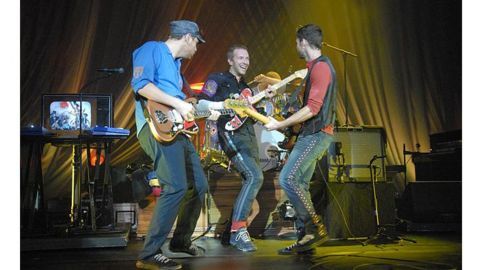 Rumour were making rounds that Coldplay is going to perform on 19 November 2016 in either Mumbai or Delhi.
A couple of hours ago Google India apparently tweeted that Coldplay will perform at Mumbai Metropolitan Region Development Authority grounds on November 19 and then deleted the tweet.
This has created confusion and also stirred a new wave of excitement among the band's Indian fans.
In context:
Coldplay in India
Chris Martin's impromptu gig in Delhi last year

Coldplay's lead singer Chris Martin paid a surprise visit to Summerhouse Cafe in Delhi's Hauz Khas Village in July last year. He was accompanied by music director Vishal Dadlani, musician Raghu Dixit, actress Freida Pinto, and members of the comedy collective All India Bakchod.
Video Shoot

Coldplay's "Hymn for the Weekend"
In September 2015, Chris Martin along with his band-mates, Jonny Buckland, Guy Berryman and Will Champion came to Mumbai to shoot a music video.
They were photographed covered in colours associated with Holi celebrations and with Indian children running around them.
However, their music video 'Hymn for the Weekend', instantly came under fire for cultural appropriation because they misrepresented India as an "exotic playground".
Love Entertainment news?


Stay updated with the latest happenings.
10 Aug 2016

Coldplay to perform live in Mumbai?
Speculation

Unraveling the mystery
Many outlets have claimed earlier that Coldplay might perform in Mumbai for a charity concert organized by the Global Poverty Project.
2 weeks ago, thebanginbeats.com broke the news that Coldplay is coming to India for their debut show.
The band's official website does not include tour dates from 3rd September to 3rd December, which makes their India tour in November a possibility.
Adding fuel to the fire

In February 2016, Coldplay's manager Phil Harvey tweeted that he would make sure that Coldplay comes back to India as soon as possible. Coldplay has announced their dates for 'A Head Full of Dreams' tour and fans are hopeful of India featuring on the list.
09 Sep 2016

Coldplay to perform in Mumbai, Rs.25k per ticket
Sources have confirmed that Coldplay would indeed perform in Mumbai on 19 November.
According to reports, the show is set to be organized by Global Citizen Festival and will be staged at Mumbai's MMRDA grounds.
Tickets are said to cost between Rs.25,000-5,00,000 on BookMyShow from 12 September.
Jay-Z, Deepika Padukone, AR Rahman and Amitabh Bachchan are also expected to perform.
Love Entertainment news?


Stay updated with the latest happenings.
31 Oct 2016

Fadnavis govt grants 75% rebate on venue
The Maharashtra government granted a 75% rebate on the concert venue, MMRDA grounds, for Coldplay's concert in Mumbai.
This means they will only pay Rs.2 crore instead of Rs.7 crore for the venue; the government is also considering a relaxation of entertainment tax for the gig.
The event, called the Global Citizen Festival, will be held on MMRDA grounds on November 19.
07 Nov 2016

Global Citizen Festival mired in politics
Politics over the Maharashtra government's handling of the Cold Play concert (organized by Global Citizen Festival) continued as opposition parties alleged that the government has waived the rent for the concert's venue.
Sources said PM Modi may attend the event to engage with the youth and speak on India's development agenda.
BJP sources said Modi's visit "will be for promoting social and global initiatives."
20 Nov 2016

Modi woos youth with jokes, quotes Dylan
In his speech at the Global Citizen Festival in Mumbai, PM Modi joked about how the audience would demand a refund in Rs.100 notes, were he to sing.
Inspiring the youth to usher in change, Modi also quoted a verse from Bob Dylan's iconic song "The times they are a changin."
His speech, peppered with new slang also spoke of the Swachh Baharat program.