Entertainment
10 Aug 2018
#ButLiberalsAreFanatics: Why Sadhguru's statement irked many including Swara Bhasker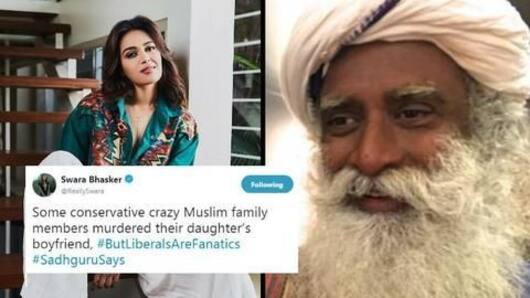 Sadhguru, who has a lot of followers globally, has found himself at the center of controversy for making a remark on liberals.
While speaking to Bollywood actress Kangana Ranaut, the mystic equated liberals to fanatics, and this has irked them.
Self-proclaimed liberal Swara Bhasker was among the 'eminent' names who gave her opinion (a sarcastic one) on this and tweeted using #ButLiberalsAreFanatic.
In context
Sadhguru's views on liberals irks many
What happened
Kangana defines liberals, Sadhguru calls them fanatics
Kangana and Sadhguru touched many topics in the conversation including mob-lynching happening in the name of cows.
The actress said 'so called liberals' jumped to the other side everytime an incident of lynching was reported and they never wanted to protect cows. She said being liberal meant accepting people, thoughts and opinions.
To this Sadhguru said, "No no they are fanatics", and laughed.
Liberals attacked?
Sadhguru also said liberals aren't connected with ground reality
Sadhguru also said that those protesting are not aware of ground realities, and he was. He gave an example of how a sub-inspector once didn't intervene in an incident of mob-violence, because 'that's how it was'.
Of course, liberals (whose dictionary definition means being open to other ideas) took offense.
Swara tweeted someone was flogged, tied to a jeep, #ButLiberalsAreFanatics.
Love Entertainment news?
Stay updated with the latest happenings.
Notify Me
Tweets
Apart from Swara, others contributed too #ButLiberalsAreFanatics
There were others who joined the bandwagon. @yourslegally tweeted: 8 men raped and murdered an 8-year-old child inside a temple and some people took out rallies in support of the rapists. #ButLiberalsAreFanatics #SadhguruSays.
And actress Shruti Seth tweeted: Keeping the world from being set on fire #ButLiberalsAreFanatics.
Swara also wrote: People are literally burning other people alive over rumors and bogus concepts of #LoveJehad.
Trolling
Unsurprisingly, Swara was trolled for her tweets
As it has unfortunately become the norm on Twitter, hate was spewed against Swara for her opinion.
A user @legion_group tweeted: Oh look you're so frustrated, go masturbate, you'll feel relieved!#ButLiberalsAreFanatics, and @son_of_bharat called her a pornstar.
On another note, why would she call herself a liberal when her outrage is always selective?