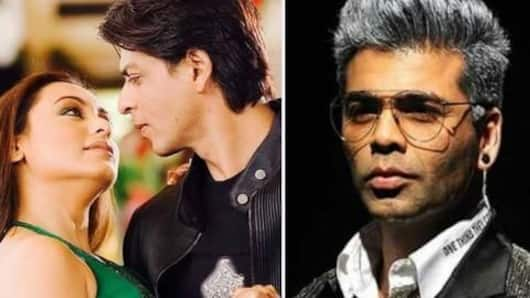 Troll says 'KANK' promoted extra-marital affairs, KJo gives classy reply
'Kabhi Alvida Naa Kehna', also known as 'KANK', remains one of Karan Johar's finest movies.
The film has completed 12 years now. And Karan, Preity Zinta, and Farah Khan took to social media to recall good times.
However, one troll tried to act smart. He thanked the team for promoting extra-marital affairs.
Karan shut him up, saying one can't promote an already 'big hit'.
What 'KANK' showed and why did it invite backlash?
Released in 2006, 'KANK' was a controversial movie of the time because of its bold and progressive content.
The stellar cast included Shah Rukh Khan, Abhishek and Amitabh Bachchan, Preity Zinta and Rani Mukherji.
The plot showed two unhappy couples - Dev and Rhea, Maya and Rishi.
Maya and Dev built an instant connection and found happiness with each other outside their marriages.
Love Entertainment news?
Stay updated with the latest happenings.
Yes, notify me
Is depiction equal to promotion? You decide
There's no denying that 'KANK' depicted an extra-marital affair.
However, is depiction same as a promotion? Absolutely not.
The film was made beautifully to explore the exact reasons why the couples didn't function. The unhealthy bases of their relationships were compared to the strong friendship of Dev and Maya.
Instead of promoting extramarital relationships, the film explored the causes and showed a mirror.
You really can't promote what's already a hit
'KANK' received flak for promoting extra-marital affairs when the truth is that they have been part of our lives and society for a long time.
Recent studies have shown that extra-marital affairs mostly arise due to dissatisfaction with current marriage, sexual incompatibility and stress.
The general age group is between 34 to 49.
It's true that art imitates life and 'KANK' was no exception!