Entertainment
22 Sep 2018
Won't do films which will make Aaradhya feel awkward: Abhishek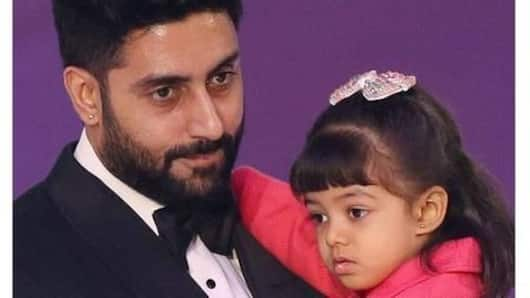 Abhishek Bachchan says in future, he will be conscious to not be a part of films that will make his daughter Aaradhya feel awkward while watching.
"I will now choose whatever work I do in the professional career based on Aaradhya. I wouldn't like to make a film which I feel Aaradhya would feel awkward watching," Bachchan said yesterday at Jagran Cinema Summit, Mumbai.
In context
Abhishek to choose films keeping Aaradhya in mind
Family support
We'll support Aaradhya irrespective of her career decision: Abhishek
Bachchan said he and his actor-wife Aishwarya Rai are very clear that they won't force Aaradhya to pick a profession of their choice and would stand by her decision irrespectively.
"As far as Aishwarya and I are concerned, be it tomorrow, twenty years down the line or whenever, whatever she decides, we'll support her. That's what our parents did for us too," he added.
We would be proud of Aaradhya always: Abhishek
"You want the best for your child. What Aaradhya decides to do is completely her choice. We will never weigh down on her, that this is what we expect you to do. We would be proud of her regardless of what she becomes," said Abhishek.
Love Entertainment news?
Stay updated with the latest happenings.
Notify Me
Details
Never grew up like typical film industry kids: Abhishek
The 'Manmarziyaan' star said his parents, Amitabh Bachchan and Jaya, never brought work home.
"Dad never brought his work home. The first time I saw my father come home in a costume was when he was shooting 'Insaniyat' and he came home for lunch dressed as a police inspector. Otherwise, we never grew up like typical film industry kids," said Abhishek.
His life
No film magazine was allowed in the house: Abhishek
"None of the film magazines was allowed in the house. There was a press ban going on at that time with my father. We didn't even know for years, the concept of a film industry," said Abhishek.
He said almost all his friends were industry kids, Hrithik Roshan and Aditya, so it was normal for him to grow up in that environment.
As a kid, Abhishek thought everyone has 500-people waiting outside
"When I was a kid, I thought everyone has 500 people waiting outside their house. That was my normal. People socially coming home were all part of the film industry. That world becomes yours," said Abhishek.