Entertainment
23 Sep 2018
We aren't pushovers: Shilpa Shetty faces racism in Sydney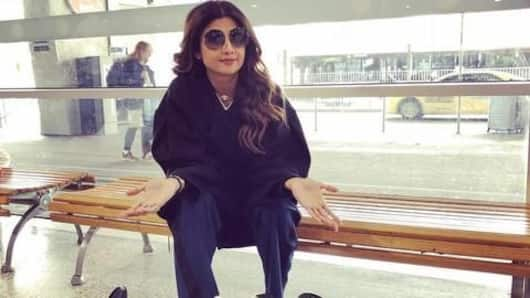 The battle for racial equality is far from over, and what actress Shilpa Shetty faced at Sydney Airport, recently, is a proof of that.
On Instagram, Shilpa wrote a long post highlighting how a staff member behaved rudely with her, only because she was brown.
She wrote Qantas Airlines should know brown people aren't pushovers and being rude won't be tolerated.
Here's what happened.
In context
Shilpa Shetty faces racism at Sydney airport
The incident
Rude staff member raised objection over Shilpa's luggage
So here's what went down. Shilpa was traveling from Sydney to Melbourne when she met a rude staff member called Mel.
Mel was extremely rude and raised objection over the luggage. "I was flying business and had 2 bags (my allowance) and she insisted and decided my half-empty Duffel bag was oversized (to check in!!)," Shilpa wrote.
Only the bag wasn't oversized.
Counter to counter
Shilpa went from one counter to another, Mel remained adamant
Following Mel's instructions, Shilpa went to another counter where a well-behaved lady told her the bag wasn't oversized.
"All this happening while the counter is going to shut in 5 mins," she wrote.
Shilpa then went to Mel and told her colleague maintained the bag wasn't oversized, but the latter was in no mood of listening. Mel remained adamant.
Love Entertainment news?
Stay updated with the latest happenings.
Notify Me
Shilpa confronts Mel, tells she has issues
Upset with the incident, Shilpa told Mel it looked like she had some issues. "Another colleague joined in an reiterated my duffel wasn't oversized and could've easily been checked in," she wrote and added she wanted Qantas to take cognizance.
Looking back
Earlier, Richa Chadha faced a similar incident in Georgia
Shilpa's is not the standalone incident. Earlier this week, actress Richa Chadha tweeted about her foul experience in Georgia.
"Met a racist AF officer at the passport control, while exiting Georgia. Slammed my passport on the desk, twice...muttered under her breath in Georgian, yelled and asked me to hurry," she wrote.
It's 2018 people, when will you learn color isn't the problem?