Entertainment
13 Oct 2018
#MeTooBollywood: Vikas Bahl's ex-wife supports him, Kangana Ranaut slams her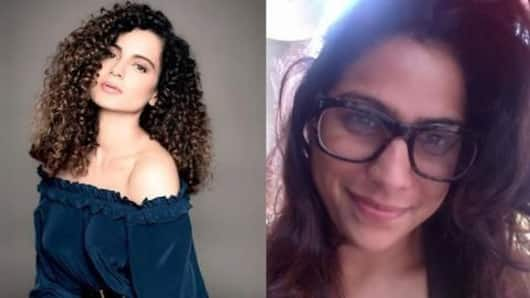 Post the shocking allegations leveled against Vikas Bahl by Kangana Ranaut, the director has been facing a severe backlash, showing tables have turned after #MeToo campaign.
While he has claimed to prove the truth, his ex-wife Richa Dubey came to his support and pointed out the loopholes in the allegations.
Miffed with this, Kangana attacked Richa and took a dig at their 'friendly' divorce.
In context
Kangana attacks Vikas Bahl's ex-wife for supporting him
Richa's statement
Give Vikas a fair chance to prove his innocence: Richa
Richa took it to micro-blogging site Twitter and pointed out the loopholes in the sexual harassment allegations against her ex-husband Vikas.
She said it is "just a big mess and an ugly plot in the name of #metoo".
Richa also took a dig at Kangana's habit to pick fights, while maintaining that she doesn't want to get into a media battle with her.
Love Entertainment news?
Stay updated with the latest happenings.
Notify Me
Kangana's statement
Unsurprisingly, Kangana hits back at Richa
While Richa called Kangana's claim a vicious lie, the 'Queen' actress went on to take a dig at Richa's divorce and quizzed her about the reason for leaving Vikas.
"Stop this bull sh*t that we had a friendly divorce perfectly amicable and we are a family," she added.
Kangana also mentioned that it is important to ensure these men don't spoil more lives.
Allegations
Backstory: Kangana had accused Vikas of sexual harassment
Notably, Kangana had accused Vikas of sexual misconduct and revealed how the director made her feel uncomfortable with his gestures at social gatherings.
"He bragged about having casual sex with a new partner every other day. You can tell when addiction becomes a sickness," she added.
'Queen' actress Nayani Dixit also leveled similar allegations against Vikas. Meanwhile, he has claimed innocence.