Entertainment
Padmavati woes: Hardik Patel seeks assurance from Bhansali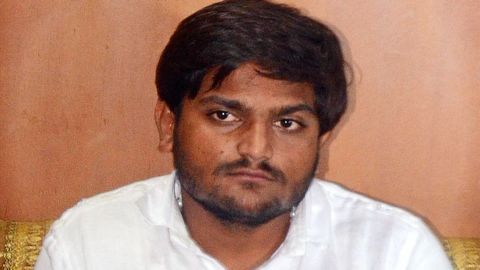 Hardik Patel, president of Patidar Navnirman Sena (PNS) has commanded that production of Bhansali's Padmavati be stopped till there is an assurance that the image of Rani Padmavati won't be distorted.
He asked Bhansali to hold talks with Rajput leaders before he began shooting, else Patidar Navnirman Sena will hold demonstrations across India and not allow the film to be released.
In context:
Padmavati: A movie mired in controversies
Introduction

Bhansali's next directorial venture: Padmavati
Bhansali's Padmavati is based on the story of Rani Padmini, wife of King Ratansen of Chittor.
Deepika Padukone was cast as Padmavati opposite Shahid Kapoor.
Ranveer Singh was chosen for the role of Alauddin Khilji- obsessed with Padmavati.
The movie is expected to be the most expensive Indian movie to be made with an exorbitant budget of Rs.200 crore.
19 Aug 2016

Bhansali asked to trim costs after Deepika fee hike
The news that Deepika Padukone was taking home a pay cheque of Rs.10 crore for her upcoming film created fresh trouble for Bhansali directed Padmavati.
Eros, the studio funding the lavish project asked the director to trim costs on this mega budget movie which is expected to be the most expensive movie.
Bhansali was asked to ensure that costs especially actor costs were re-negotiated.
Love Entertainment news?


Stay updated with the latest happenings.
War of heroes

Ranveer wants Shahid's role be termed as 'special appearance'
Bhansali's Padmavati reportedly has been facing one hindrance after another.
It was reported that actor Ranveer Singh asked Bhansali to trim down co-star Shahid Kapoor's role and "bill him as special / guest appearance".
These conditions were turned down by Bhansali who deemed it would be unfair to Kapur who had agreed only because he'd got a meaty role.
Of fragile egos, and poster space

Reportedly, Bhansali's lead actor Ranveer Singh had a problem sharing poster space with Shahid. Hence, Bhansali has decided to unveil three posters for the movie, one with each actor.
22 Sep 2016

Padmavati woes: Hardik Patel seeks assurance from Bhansali
Previous showdowns

Bhansali's previous movies that met with resistance
Previously too, Sanjay Leela Bhansali's movies have had problems.
His movie Ramleela: Goliyon ki Raasleela did not sit too well with the Gujarati communities portrayed in the movie and there were several protests against it.
His last directorial success, Bajirao Mastani too faced protests for being historically inaccurate.
The movie was severely opposed by the Marathi leaders who called it a 'grotesque distortion'.