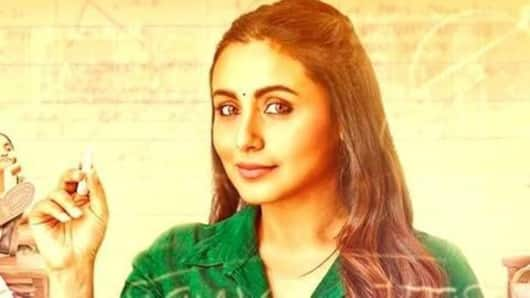 Chinese audience has phenomenal love for Indian actors: Rani Mukerji
Rani Mukerji says she knew that Indian films were popular in China but it was still a surprise to witness the love and respect the audiences have for Bollywood stars when she visited the country to promote 'Hichki'.
In the Siddharth Malhotra-directed flick, Rani played the role of a teacher who suffers from Tourette syndrome, a neurological disorder that causes involuntary vocalizations.
Read here.
'Hichki' has earned over Rs. 150cr at Chinese box office
The film is currently doing well in Chinese theatres and has earned over Rs. 150 crore at the box office.
Rani, who was on a multi-city tour to promote the movie in The Red Dragon, said she decided to be a part of the promotions because she wanted to witness the love first hand and it has been an enriching experience for her.
They understood each and every emotion of the film: Rani
"They understood every emotion of the film and knew about it, so there was a lot of positivity everywhere I went. It was surprising, because I knew Indian films are popular (there) but to what degree, I found out when I went there," said Rani.
Love Entertainment news?
Stay updated with the latest happenings.
Yes, notify me
Indian and Chinese culture are very similar: Rani Mukerji
Rani points out Indian films do well in China because the two neighbors share a lot of cultural similarities.
"Our cultures and our way of life is very similar. Indians and Chinese are similar in terms of family life and in the way they live. I guess that's what really connects our stories to them because it feels very close to home," she noted.
"A film about human emotions kind of clicks anywhere"
Another reason why 'Hichki' is having a successful run in China is because it's loaded with human emotions, says the 40-year-old actor.
"When you make a film on human emotions, it kind of clicks anywhere globally. It makes you believe that if you back a project which has heart and soul, there will always be an audience somewhere who will appreciate it," she shared.
'Hichki' Rani's first film after Adira's birth
For her personally, 'Hichki' has been a special film because it was her first film after the birth of her daughter, Adira, says Rani.
"I was really anxious leaving my daughter behind for shooting but it all went really well. I've more focus now because I want to complete my work to the best of my ability and return home immediately," she wrapped up.