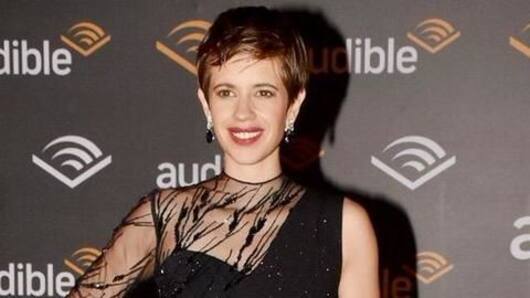 Actors should trust each other before shooting intimate scenes: Kalki
Kalki Koechlin says it's extremely important for actors to trust each other before shooting intimate scenes and believes such a practice should be made mandatory in the film industry.
Kalki said she has done intimate scenes with actors without even meeting them before, something which shouldn't happen.
At the 'Tata Literature Live!', the actor was part of a panel discussion on code-of-conduct at work.
'If action scenes can be choreographed, why not intimate scenes'
"When we are on a film set, no one is going to not have a really choreographed action scene. No one is going to 'by mistake' punch the actor in the face. So why aren't we doing that for intimate scenes?" Kalki asked.
She said it doesn't make sense when she has to do intimate scenes with actors she has never met before.
'Every morning my co-actor, I have consent; agree on touch'
Kalki said she's currently doing a play about the rape of a Roman woman where they were given a two-page code of conduct drafted by the Royal Court theater in 2017 after several #MeToo cases surfaced.
"Every morning, my co-actor and I have consent...where we ask, 'Can we do this?' and agree on touch. That has made us so much more comfortable," she said.
Love Entertainment news?
Stay updated with the latest happenings.
Yes, notify me
Kalki believes individuals, industry should collectively take responsibilities
Kalki further said, "That kind of good-practice needs to be encouraged and demanded from those of us in the industry."
She believes it's extremely important for an individual and an industry as a collective to take responsibilities.
"We've had a meeting few weeks back with the producers' guild, directors, crew-members to understand what are the problems and how can we take responsibility," she added.