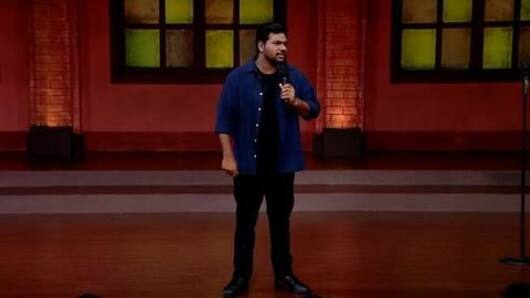 'Storyteller' Zakir Khan's 'Kaksha Gyarvi' is about all of us
Zakir Khan ends his stand-up special Kaksha Gyarvi by saying 'Bapu apna hai sakht launda' and the crowd joins in.
This is one of the many proofs that shows Khan's audience connects with him and remembers his words distinctly.
With his new special, which is streaming on Amazon Prime, Khan has shown once again he is one of the best storytellers we have.
From Indore to places, Khan is on a roll
In recent years, Khan has emerged as one of the most prominent comedians in the country.
His Every Delhi Girl sketch, which he performed at AIB Diwas, went crazy viral that led to his 2017 special Haq Se Single.
When he is not making people in auditoriums laugh, Indore-bred Khan writes poems, attends chat shows and narrates his rags to riches story.
Drumrolls! Khan's new stand-up special is here and doesn't disappoint
In Kaksha Gyarvi, Khan talks about his childhood. And in doing so, he dives into the childhood of all who grew up in small towns.
Khan intends to remind of incidents that made you the person you are and never does he fail.
Even if there weren't any jokes, the little over one hour show would have been equally entertaining. The jokes just make the package better.
Love Entertainment news?
Stay updated with the latest happenings.
Yes, notify Me
What makes Khan so popular? The answer is his stories
Khan's journey of studying in an all-boys school to a co-ed one, and running into problems related with the viewers, and laughs testified it.
How he used gutka wrappers for a toss during cricket matches, or how he was scared if his father was called to school or how his seniors told him 'being a man means you can't cry', Khan's stories hold a mirror.
Khan doesn't pull punches when talking about toxic masculinity
Call Kaksha Gyarvi, Khan's handbook to manhood and it won't be entirely wrong. Khan, who was criticized for his sexist jokes in the past, has evidently grown.
He touches the topic of toxic masculinity (without using the term), says men are conditioned to not express their feelings, adds a weak man shouts at a woman and takes a jibe that perhaps men haven't grown since the last 900 years.
He swiftly moves to talk about family, gets us emotional
Like most of his works, Khan dedicates a good amount of time, in this one too, to his family.
In revealing how his bond was with his parents, Khan sheds light on all our lives.
For example: After being beaten up by boys, Khan was determined to not break down, but couldn't hide his pain from his mother.
Khan said he witnessed his mother became Hindu Goddess Chandika, and then delivered his famous dialogue, 'Aise awkward mat ho, ye maa beta ka rishta hai isko secular rehne do'.
Khan has tales about his father too
The biggest highlight was, however, Khan's 'man-to-man' relationship with his father. During his tumultuous teenage years, Khan didn't see his father as 'much of a man', he confessed, but after a fight in school, he knew what he had was special.
Khan's father told him, he was a better man than others, in a language he understood, and this left imprints on his mind.
If you are not Khan's fan, you will become one
There is absolutely no story, this writer thinks, which Khan can't make enjoyable.
So when he weaved his stand up special around school life, he hit the ball straight out of the park.
Kaksha Gyarvi is full of nostalgia, emotions, lessons, some of the best jokes and relatable stories. And the storyteller Khan mixes all of them to create magic.