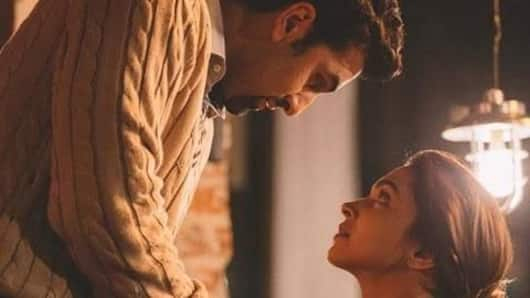 #TamashaTurnsThree: Remembering 'Agar Tum Saath Ho' and its million emotions
When Tamasha released on this day, three years ago, the expectations were sky high.
The Imtiaz Ali directorial featuring Ranbir Kapoor and Deepika Padukone in the lead roles that intended to be a reflection of all of us in these times, opened to mixed reviews.
While the movie prompted contrasting reactions, the song Agar Tum Saath Ho didn't. Everyone understandably loved the song.
The story of a troubled Ved and sorted Tara
The movie found its center in Ved's (Ranbir) life. For Ved, escaping to Corsica and putting on a fake identity was easier than confronting the demons in his life.
Torn between what he wanted to do and what he was, Ved's existence found a new meaning courtesy Tara (Deepika). Yes, no hyperbole here.
What ensued was many emotions, heartbreaks and a movie worth remembering.
'Pal bhar theher jaao, dil yeh sambhal jaaye' touched all
Penned by Irshad Kamil, sung by Alka Yagnik, Arijit Singh and featuring music by AR Rahman, Agar Tum Saath Ho came at a crucial point in the movie.
Thinking the Ved she met in Corsica was different back home, Tara rejected his marriage proposal. After giving it much thought, Tara realized she can't let go of the relationship and convinced him to stay.
He didn't, though.
Love Entertainment news?
Stay updated with the latest happenings.
Yes, notify Me
Ranbir, Deepika lifted the song in ways only they could've
Agar Tum Saath Ho couldn't have been half as popular, had it not been for Deepika and Ranbir's heart-rendering performances.
Fun fact: It wasn't all scripted.
While Tara comforting Ved on a table has become an iconic image, she wasn't supposed to go after him after he left the establishment.
The actors, reportedly, came up with it on their own and Imtiaz kept it.
And who can forget the Midas touch of Rahman?
Rahman is to be credited for a giving us numerous melodious songs. And at a time when Bollywood was (still is) struggling to come up with originals, Rahman showed us there is no one like him.
About this beautiful song, Rahman said he wanted to keep the song simple, as the movie was somewhat dark.
They got it right the third time.
Rahman wanted to keep it simple
"I felt the song should be more simple because the movie is a complicated one. Tamasha is a heart-rendering movie but it is also dark. So I wanted something which was very earthy and simple," Rahman said in an interview.
You can hate 'Tamasha', not 'Agar Tum Saath Ho'
From performances to lyrics, music, and direction, Agar Tum Saath Ho is nothing but few minutes of perfection.
One can dislike Tamasha saying Imtiaz offered nothing new, or Ranbir's path to finding himself was dragged longer than it should have, but no one could possibly hate Agar Tum Saath Ho.
It deserves to be listened on loop, which is what I would do now.