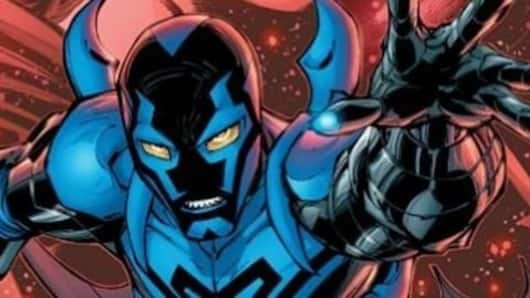 DC plans to make a 'Blue Beetle' movie
The DC Extended Universe of movies was launched by Warner Bros. in 2013, starting with Man of Steel, followed by Batman v Superman: Dawn of Justice, Wonder Woman, Justice League and now has Aquaman lined up, which has already garnered a positive initial response.
Interestingly, they are now developing a Blue Beetle superhero movie, based on Jaime Reyes, the comic book character.
Here's more.
The people behind the movie
Credits:
The movie is still in its nascent stages and Warner Bros. has brought in Gareth Dunnet-Alcocer to pen down Blue Beetle's screenplay.
Gareth, who is represented by WME and Michael Schenkman, attorney at Bloom Hergott, has written the Scarface remake for Universal Studios.
Blue Beetle is also getting Zev Foreman as executive producer, who produced films like Once Upon a Time in Venice.
Who is the Blue Beetle?
Blue Beetle first appeared in the 1939 comics when police officer Dan Garrett derived powers from a sacred scarab, using it for crime fighting. The mantle was then passed to his student Ted Kord who continued crime fighting but without superpowers.
The character, the film is based on, is Jaime Reyes, who appeared in 2006, created by John Rogers, Keith Griffin and Cully Hamner.
Love Entertainment news?
Stay updated with the latest happenings.
Yes, notify me
What might the film's Blue Beetle do?
Credits:
Reyes became Blue Beetle when the scarab grafted itself to the base of his spine, giving him extraterrestrial armour.
Before the 17-issue Blue Beetle comic from 2011 to 2013, Reyes worked with Booster Gold, Kord's best friend and former teammate, becoming a Teen Titans' member.
Notably, Warner Bros. was rumored to have a Booster Gold movie with Greg Berlanti in 2015, but nothing materialized.
The marginalized superheroes are coming to screen
If the Blue Beetle movie does get made, it will mark the first time DC has made a standalone movie with a Latino lead. DC is known to break superhero barriers by making the first female superhero movie too, that is Wonder Woman.
The margins of profit
The decision to have a Latino lead in a film could be tied to profits as surveys show Latino and Hispanic audiences make up the highest per-capita attendance in movie theaters.
Making up 18% of the US population, Latinos purchase about a quarter of movie tickets sold in the US.
Naturally, this motivated DC to give Latino audiences a representational superhero to increase sales.
Voices in the time of discrimination
A Latino or Hispanic superhero would make a statement in the US at a time when they are being treated with a degree of suspicion and hatred due to current political climes.
Notably, US is facing a migrant caravan crisis under President Trump.
A Latino superhero would send a strong message of hope through cinema.