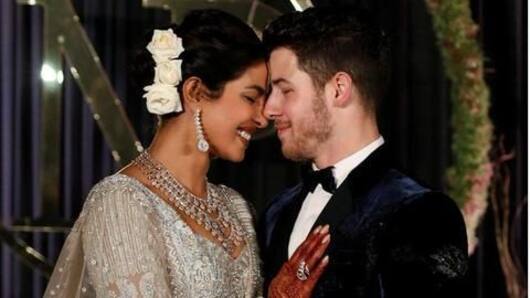 US-based publication takes down racist piece on Priyanka
Priyanka Chopra and Nick Jonas's grand wedding has been breaking headlines across the world.
However, a writer from lifestyle magazine The Cut didn't seem happy about it.
In her article yesterday, she called Priyanka a "modern-day scam artist" and that Nick was married into a "fraudulent relationship".
But, after receiving massive backlash, the magazine took down the article and apologized for it.
Here's what went down.
Article advised Nick to 'gallop away' on a horse
Yesterday, Mariah Smith from The Cut wrote an article titled Is Priyanka Chopra and Nick Jonas's love for real?.
In her article, Smith called Priyanka a "global scam artist" and maintained that Nick married into a fraudulent relationship against his own will.
She also had an advice: "Nick, if you're reading this, find that horse and gallop away as fast as you can!"
Smith didn't feel Priyanka has 'it all' to marry Nick
In more than 1,000 words explaining how the duo's relationship is fake, Smith didn't seem to feel Priyanka has "it all" to marry someone who is related to Kevin Jonas.
According to Smith's article, the young and naive Nick was only looking for a fling but was tricked into marriage by Priyanka.
Needless to say, her derogatory article was slammed by many.
Love Entertainment news?
Stay updated with the latest happenings.
Yes, notify Me
The article was sexist, racist and disgusting: Sonam Kapoor
For a publication that "shows women's what they are made of" @TheCut has a lot to answer for . The article on @priyankachopra was sexist , racist and disgusting. Also it's written by a woman which is so sad. It reeks of envy and bitterness. @mRiah shame on you! https://t.co/bmbbX7LrAT

— Sonam K Ahuja (@sonamakapoor) December 5, 2018
Fairly certain Nick hasn't been kidnapped: Arjun Kapoor
I know @priyankachopra personally I'm fairly certain @nickjonas hasn't been kidnapped forced into a union of love... @NYMag u have an unhappy opinionated racist frustrated journalist who's gone on n on about 2 people who by choice have gotten married. Tacky n uncouth writing. https://t.co/ngLvyqw6fD

— Arjun Kapoor (@arjunk26) December 5, 2018
Magazine edits article, removes few words, still not good enough
After receiving heavy criticism towards Smith, the magazine updated her article but still did a poor job.
In the updated version, it removed the epithet "modern day scam artist" in front of Priyanka's name.
It also took down the tasteless advice to Nick to gallop away in a horse.
But even after a few changes, the updated article didn't make the cut.
Magazine removes article, says 'we're sorry'
Finally, The Cut removed the article and posted an apology saying the post shouldn't have gone up.
The link to the article now reads, "We've received dozens of messages from readers expressing their anger. We want you to know that we hear you and we're sorry. The whole piece missed the mark...We apologize to our readers and to Priyanka and Nick."
About time!
These kinds of random things can't disturb Priyanka's 'happy place'
About the "vile, negative" story about her on @TheCut, @priyankachopra : I don't even want to react or comment. It's not even in my stratosphere. I'm in a happy place at this moment. These kind of random things can't disturb it"

— Sonal Kalra (@sonalkalra) December 5, 2018
Priyanka's worth is more than Nick, didn't marry for fame
Smith's article wasn't only sexist, but also lacked sense.
She didn't realize that Priyanka is an ex-Miss World and a celebrated Bollywood actor and so doesn't need fame or stardom out of this marriage.
Also, Priyanka is worth $3mn more than Nick, so money is also out of question.
Finally, Ms Smith, they are adults and got married because they wanted to.
Article was clickbaity, suggested Nick was a fool
Smith's crass article was more than just a ranting from a disgruntled fan. It was a clickbait, which failed miserably.
Worse, the article was published by The Cut whose punchline is "Showing the world what women are made of".
They took hypocrisy to another level, seriously!
The article wasn't just derogatory towards Priyanka but it also suggested that Nick was a fool.
How could the article pass through the editor's discerning eyes?
The article reeked of envy and was worse than a gossipy piece on stars.
The magazine, in its attempt to bring PeeCee down, took sensational journalism to another low.
While the publication may have 'reviewed' and brought down the article (though the URL still remains), the trashy piece should not have passed the editor's discerning eyes in the first place.