Entertainment
07 Dec 2018
#Kedarnath: Sara Ali Khan says she didn't deserve the movie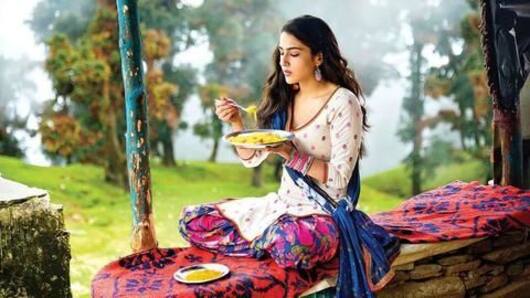 Sara Ali Khan is all set to make her big Bollywood debut with Kedarnath opposite Sushant Singh Rajput.
The actress has received an overwhelming welcome from the audience, with her performance in Kedarnath trailer being highly appreciated.
While we are waiting for the Pataudi princess to take on the big screen, Sara feels that she didn't deserve Kedarnath.
But why? We tell you.
In context
Sara Alia Khan talks about her debut 'Kedarnath'
Sara's statement
The welcome has warmed Sara's heart
Sara expressed her gratitude towards the warm welcome she has received and said that it was gratifying and humbling.
However, she also emphasized that there was a pressure to prove herself.
"It's my duty to make everybody who has given me love to not feel stupid. The more you are given, it's your duty to be to what you're given," Sara said.
The movie
Sushant deserves 'Kedarnath', I don't: Sara
Sara has been all praises for her co-star Sushant and said that he completely deserves to be a part of Kedarnath.
"He has been in the industry for more than 11 years, he deserves Kedarnath, I don't," she told Mid-Day.
The newcomer also mentioned that Sushant was a great help to her on the sets and ensured she was comfortable during her scenes.
Love Entertainment news?
Stay updated with the latest happenings.
Notify Me
Sara on Sushant
Sara can't stop praising Sushant
Sara also spoke about the bond she shared with Sushant on Kedarnath sets and said that he became a mentor.
"I think when you are on set and you're working with somebody that is so senior to you, he became a mentor. He was very kind to me, and it was just very comfortable to have someone like him on the sets," she added.
Important advice
Sara got a special advice from parents Saif and Amrita
With Sara taking her first step in Bollywood, it is only obvious her parents Saif Ali Khan and Amrita Singh would be concerned.
But the two gave Sara the best advice for her big start and told her to live every moment of it.
She revealed that her parents asked her to find a balance between hard work and fun in life.
Sara's movies
'Kedarnath' releases today and 'Simmba' a few weeks later
Interestingly, Sara is among the few lucky star kids who were taken hands-on by filmmakers even before their first release.
Just days after Kedarnath, Sara's Simmba will release on December 28.
Talking about it, Sara said, "I have become more humble after Simmba. I think having had Simmba, especially without Kedarnath releasing is very gratifying".
We hope Sara lives up to the expectations.