Entertainment
07 Dec 2018
#Kedarnath: Sara Alia Khan's debut movie banned in Uttarakhand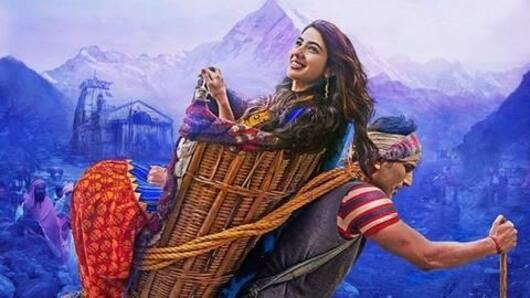 Sara Ali Khan's Bollywood debut Kedarnath has become controversy's favorite child lately. The movie has been witnessing protest over its release in various places for allegedly promoting 'love-jihad'.
It was alleged that Kedarnath hurt the Hindu religious sentiments.
While the makers have defended themselves, the troubles for Kedarnath continued.
And now as per the recent update, the movie has been banned in Uttarakhand.
In context
Sushant-Sara's 'Kedarnath' banned in Uttarakhand
Controversy
'Kedarnath' is not according to our culture: Uttarakhand minister
The news of Kedarnath's ban was confirmed by Uttarakhand minister Satyapal Maharaj.
He stated that Kedarnath has been banned to maintain the law and order situation in the state.
Satyapal further mentioned that the movie hurts the religious sentiments and the release can instigate people.
"The movie is not according to our culture and the film can instigate people," he added.
'Kedarnath' story
'Kedarnath' is based on a true story of nature's wrath
Helmed by Abhishek Kapoor, Kedarnath is based on the horrifying Uttarakhand floods that shook the valley in 2013.
The floods had killed thousands while many went missing post the natural calamity.
Kedarnath, as the tagline boasts, will take you on a pilgrimage of love but will also give you shivers as it makes you relive the horror of nature's wrath.
Love Entertainment news?
Stay updated with the latest happenings.
Notify Me
The controversy
But, 'Kedarnath' promotes 'love-jihad', alleged priests
Reportedly, Kedarnath witnessed protests from priests of the holy city for allegedly hurting the Hindu religious sentiments by promoting 'love-jihad'.
The protests instigated post the release of the trailer which gave a glimpse of the love story between Sushant (a Muslim pithoo) and Sara (a Hindu girl).
In fact, Kedarnath poster also faced objection as it featured "a Muslim carrying a Hindu".
'Kedarnath' tagline
'Kedarnath' is also factually incorrect: BJP leader
Earlier, state BJP leader Ajendra Ajay had also demanded a ban on Kedarnath. Apart from accusing the movie of promoting love jihad, Ajendra also targeted Kedarnath for being factually incorrect.
"Kedarnath is factually incorrect as there is "no Muslim ferrying pilgrims on the trekking route to the Kedarnath shrine," he stated.
Ajendra mentioned that the movie's tagline was offensive as well.
First impressions
Meanwhile, the movie gets positive reviews from audience
Meanwhile, Kedarnath has released across the nation and has opened to positive reviews from the audience.
The movie is said to be a perfect mix of tragedy and love which takes the audience on a different journey.
Besides, Sara has won the show with her debut and is being lauded for her performance in the movie.
Also, her chemistry with Sushant is being appreciated.