Entertainment
07 Dec 2018
After old-homophobic tweets surface, Kevin Hart steps down as Oscars-host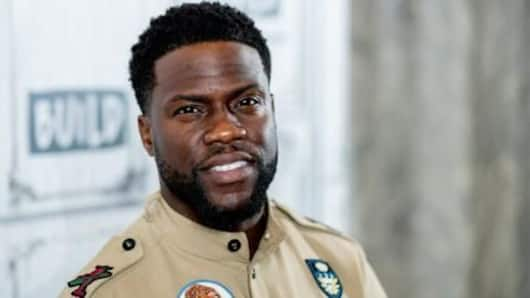 Comedian Kevin Hart will not host Oscars 2019, he confirmed on Twitter. The decision came after old homophobic tweets of him surfaced.
On the micro-blogging website, Hart apologized to LGBT community for his distasteful remarks.
He said he didn't want to become a distraction at a ceremony which celebrates art and talented artists.
Notably, he had refused to apologize earlier.
In context
Kevin Hart will not host the Oscars
Hart announces his decision on Twitter
I have made the choice to step down from hosting this year's Oscar's....this is because I do not want to be a distraction on a night that should be celebrated by so many amazing talented artists. I sincerely apologize to the LGBTQ community for my insensitive words from my past.

— Kevin Hart (@KevinHart4real) December 7, 2018
I am evolving and I am sorry, says Hart
I'm sorry that I hurt people.. I am evolving and want to continue to do so. My goal is to bring people together not tear us apart. Much love appreciation to the Academy. I hope we can meet again.

— Kevin Hart (@KevinHart4real) December 7, 2018
Love Entertainment news?
Stay updated with the latest happenings.
Notify Me
The row
Understanding why was Hart targeted
Soon after The Academy announced Hart will be hosting the prestigious ceremony in February 2019, a few of his old tweets ruffled some feathers.
In a 2011 tweet, he spoke about smashing his son's head if he found him playing with a dollhouse, because 'it was gay'. Another tweet from 2009 was equally problematic.
The tweets started a furor and Oscars was being pressurized.
Details
A petition was started against Hart
A Care2petition was started on behalf of LGBTQ and #MeToo communities asking Oscars to sack Hart from the host job.
The petition also pointed out to Hart's fights with his wife which 'landed him in jail'. In no time, the petition got over 2,000 signatures.
Hoping to contain damage, the Academy asked Hart to delete the tweets and apologize, but he didn't.
The video
Hart released a video but didn't say sorry
In an attempt to quell the controversy, Hart released an Instagram video and spoke about how he was a changed man.
But what caught attention was that he didn't apologize in the video.
He wrote in the post, "I'm almost 40 years old and I'm in love with the man that I am becoming," and advised people to take their negative energy somewhere else.