Entertainment
07 Dec 2018
#Kedarnath: Father Saif 'unwilling' to watch Sara's movie, here's why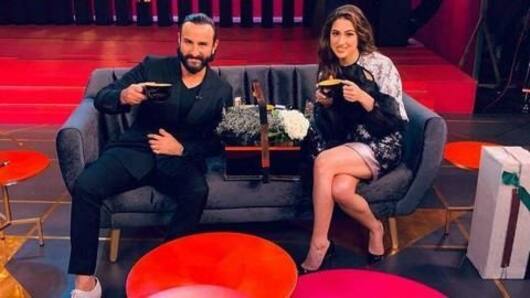 After creating a lot of buzz, Sara Ali Khan has finally made her debut in Bollywood with Kedarnath.
The movie has opened to positive reviews and Sara has managed to impress the audience with her performance.
While Sara is getting an overwhelming response for Kedarnath, it is reported that her father Saif Ali Khan isn't willing to watch her debut movie.
Here's why.
In context
Saif Ali Khan hasn't watched 'Kedarnath'
Kareena's urge
Kareena urges Saif to watch 'Kedarnath'
Apparently, Saif has been avoiding to watch Kedarnath for a while now. In fact, director Abhishek Kapoor had even sent feelers to the Nawab of Pataudi, but he didn't watch it.
This isn't all. Kareena Kapoor Khan also reportedly urged him to watch Kedarnath.
But looks like Saif is taking his time to get ready to watch his little princess on the big screen.
Saif's concern
Is Saif nervous to watch his daughter act?
Well, Saif's denial to watch Kedarnath has raised a lot of questions. A source reportedly stated that Saif is just petrified to watch Sara on screen
Earlier, Saif had expressed his concerns over Sara's debut and said, "I wouldn't say I am nervous because I am not living vicariously through her. What worries me is the kind of relationships she's going to have."
Love Entertainment news?
Stay updated with the latest happenings.
Notify Me
Saif's advice
Saif gives the best advice to Sara
Notably, Sara has revealed that her parents Saif and Amrita gave her the best advice ahead of her big debut.
They asked her to make the most of the opportunity and also have fun while she does that.
"Show everybody that you were wanted but also remember that you are here to have fun because this is the most fun job," they told her.