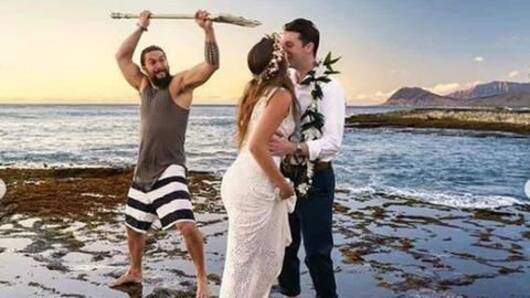 'Aquaman' Jason Momoa crashes wedding photos, pokes couple with trident
Aquaman is making waves at the box office and its star Jason Momoa is making a splash in real life by staying in character.
Always a playful persona, he is having way too much fun as Aquaman for us to tell him otherwise.
Recently, the 39-year-old actor crashed the wedding photos of a couple, armed with a trident, making it memorable.
Out on the beach with the beloved and Momoa
Credits:
A couple was getting married in Oahu in Hawaii, and while taking some photographs on the beach, they noticed Momoa walk out on to the beach, dressed in striped board shorts.
When he was asked to photobomb their picture, he happily obliged.
As luck would have it, a nearby kid was walking with a trident on the beach, which Momoa borrowed as a prop.
Momoa makes the wedding pictures look hilariously cute
At the wedding photographer's behest, Momoa joined the couple in their wedding photos.
He poked the bride Katie Meyers with his trident, as she hugged her husband.
The spontaneity and unplanned nature of the photo made it hilarious and cute, according to their wedding planner, Carina Cooper.
Cooper also posted a picture with Momoa, calling him the best and most awesome wedding crasher ever.
Love Entertainment news?
Stay updated with the latest happenings.
Yes, notify Me
Humble star Momoa, also poses with others at the wedding
Credits:
Momoa is not just a fun star, but a humble one as well.
Apart from taking pictures with the lucky couple at the wedding, Momoa and his family kept on congratulating them.
The Aquaman star also struck a pose with all the kids as well as other people on the beach who wanted pictures with him.
He was very nice and humble about it.
Momoa loves the characters he plays
While some actors might take offense at being identified as their character portrayals, Momoa is different.
He recently said in an interview that he liked being 'put in a box' with his on-screen portrayals. The reason he gave was that he liked all the characters he played.
The actor asserted that he liked what he was doing currently, and was happy with portraying Aquaman.
What else has Jason Momoa acted in?
Asked 2018-12-23 14:06:15 by Abhinav Subramanium
Answered by NewsBytes
Jason Momoa is best known for playing Khal Drogo on Game of Thrones.
What was Jason Momoa doing in Hawaii?
Asked 2018-12-23 14:06:15 by Shaurya Patil
Answered by NewsBytes
Momoa was with his family in Hawaii, probably taking a break after the Aquaman movie.
Will Momoa reprise his role in the next 'Aquaman' movie?
Asked 2018-12-23 14:06:15 by Harini Mehra
Answered by NewsBytes
Yes, Momoa will reprise his role as Aquaman in the sequel, although no writer has been selected, yet.
What is the movie about?
Asked 2018-12-23 14:06:15 by Charvi Malhotra
Answered by NewsBytes
Aquaman follows the story of Arthur Curry as he becomes the King of Atlantis, and protects the underwater kingdom trying to prevent a war with the land dwellers.