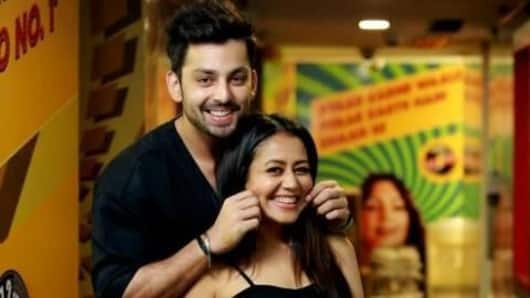 Revealed! The real reason behind Neha Kakkar, Himansh Kohli's break-up
Bollywood's chulbuli singer Neha Kakkar is going through a rough phase in her personal life after she called off her relationship with actor Himansh Kohli.
Soon, many speculations did rounds of media hinting at the 'real reason' behind this.
While the former couple has chosen silence, we have learned Himansh's suspicious nature led to the break-up.
Here's more on this.
Himansh doubted Neha's loyalty, suggests grapevine
We know trusting the partner is extremely important in a relationship but looks like Himansh forgot the basics.
According to media reports, Himansh was suspicious of Neha's loyalty in their relationship.
He thought Neha was cheating on him and his concerns, apparently, laid the foundation for the fallout.
Not able to handle the doubts, Neha decided to end the relationship, reports claimed.
Earlier, Neha shared a cryptic post about her break-up
Notably, a few days back Neha had shared a rather cryptic post on Instagram.
She had put a happy picture of herself and wrote that every woman deserved to be loved properly.
"Women Glow Differently When They are Treated Right and Loved Properly!" Neha had captioned the image.
It seems Neha was quite miffed with Himansh's suspicious nature.
Love Entertainment news?
Stay updated with the latest happenings.
Yes, notify me
Neha talks about importance of love for women
The break-up obviously left Neha heartbroken
Neha is an emotional person who believes in sharing her life with fans. During her relationship, her Instagram was filled with images with Himansh.
However, after the break-up, she has deleted those posts.
On the photo-sharing app she wrote, "Mujhe nahin pata tha iss duniya me itne burey log bhi hote hain. Khair sab kuch gawaa ke hosh mein ab aaye, toh kya kiya".
Neha-Himansh's dreamy confession on 'Indian Idol 10'
To recall, Neha and Himansh had confessed about their love for each other on the sets of Indian Idol 10.
Neha, who was seen as a judge on Indian Idol 10, got a surprise visit by Himansh and the couple made us fall in love with their chemistry.
But things are not always as we want them to be.
What is the reason behind Neha Kakkar-Himansh Kohli's break up?
Asked 2018-12-29 11:56:08 by Charvi Malhotra
Answered by NewsBytes
According to the media reports, Himansh Kohli had doubts that Neha Kakkar was cheating on him which led to frequent tiffs between the couple. The couple parted ways after dating for a short while.
How is Neha Kakkar dealing with her break-up?
Asked 2018-12-29 11:56:08 by Navya Sengupta
Answered by NewsBytes
It is reported that Neha Kakkar is totally shattered at the moment given the fact that she is an emotional person. The lady even ended up crying on the sets of Indian Idol 10 post her break up with Himansh Kohli. But as they say, time is the best healer. Hopefully, Neha too overcomes this phase.
Was Neha Kakkar planning to marry Himansh Kohli?
Asked 2018-12-29 11:56:08 by Rajesh Saxena
Answered by NewsBytes
Although there hasn't been an official announcement about Neha Kakkar and Himansh Kohli's wedding, the lady had stated that the Yaariyaaan actor will be on her mind whenever she decides to get married. But looks like destiny had different plans for Neha and Himansh.
What does Himansh has to say about his break up with Neha?
Asked 2018-12-29 11:56:08 by Divya Chauhan
Answered by NewsBytes
Himansh Kohli continues to maintain a stoic stance over his break up with Neha Kakkar. While Neha has been sharing her feelings, Himansh has kept mum and is avoiding speaking over the matter. We wonder what is his side of the story.