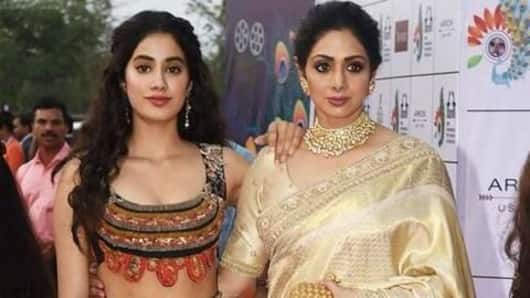 Janhvi Kapoor on Sridevi's death: I am still in shock
The year 2018 has been the best and worst year for Janhvi Kapoor, professionally and personally.
Janhvi, who made her big debut with Dhadak, lost her mother Sridevi in February 2018.
Sridevi's untimely death was a big shock for everyone. Although it's almost a year since the unfortunate incident, Janhvi admitted she was still in a state of shock.
Here's what she said.
Sridevi died of accidental drowning
To recall, Sridevi passed away on February 24, 2018, in Dubai. She was there to attend actor Mohit Marwah's wedding.
Reportedly Sridevi died due to accidental drowning in the bathtub of her hotel room. The incident took place while she was getting ready for a dinner date with husband Boney Kapoor.
Her untimely death naturally shocked one and all.
Janhvi gets emotional remembering her mother Sridevi
It's been almost a year since Sridevi died, but daughter Janhvi is still struggling to overcome the pain.
The actress said that the initial months post her mother's demise were quite traumatic and she doesn't have a memory of them.
"I am still in shock. None of it has been processed. Like, I have no memory of three or four months," Janhvi told Filmfare.
Love Entertainment news?
Stay updated with the latest happenings.
Yes, notify me
Sridevi died months before Janhvi's debut
Sridevi, who was ecstatic about Janhvi's debut, passed away months before her daughter's first movie Dhadak hit the big screen. Janhvi even said that the movie saved her in many ways and strengthened her to face the reality.
Arjun and Anshula became Janhvi and Khushi's new support system
After Sridevi's demise, siblings Arjun and Anshula stood by Janhvi and Khushi like a rock. In fact, they developed a great bond and became their biggest support system.
Talking about it, Jahnvi said, "You know at the end of the day, we have the same blood in us. I think that was when I felt like, 'Ok maybe we might be okay'."
Arjun on finding two more sisters
Being a doting son that he is, Arjun became dad Boney's pillar of strength during the difficult phase.
The Mubarakan actor has not only been a good son to his father but also an equally amazing brother to Janhvi and Khushi.
Talking about finding two more sisters, Arjun said, "They allow me to call them my sisters and that's very large-hearted on their part".
When did Sridevi die?
Asked 2019-01-02 21:18:20 by Abhinav Lobo
Answered by NewsBytes
Veteran actress Sridevi died on February 24, 2018. She was in Dubai back then to attend her nephew Mohit Marwah's wedding.
What was the reason behind Sridevi's death?
Asked 2019-01-02 21:18:20 by Divya Tata
Answered by NewsBytes
There's been a lot of theories behind Sridevi's untimely death. However, the forensic reports stated that the actress died of accidental drowning in the bathtub of her hotel room.
What kind of equation does Janhvi Kapoor shares with Arjun Kapoor?
Asked 2019-01-02 21:18:20 by Paridhi Rathore
Answered by NewsBytes
Arjun Kapoor and Janhvi Kapoor, who happens to be 'half-siblings', share a cordial relation. In fact, Arjun has been Janhvi's biggest support system post Sridevi's death. The two displayed a perfect camaraderie on Koffee With Karan 6 as well.
Which is Janhvi's next movie?
Asked 2019-01-02 21:18:20 by Hemant Sharma
Answered by NewsBytes
Janhvi Kapoor made her debut with Dhadak opposite Ishaan Khattar in July 2018. The actress will be next seen in Karan Johar's upcoming multi-starrer project Takht. The movie also stars Ranveer Sinhg, Alia Bhatt, Kareena Kapoor Khan, Vicky Kaushal, Bhumi Pednekar and Anil Kapoor in lead roles.