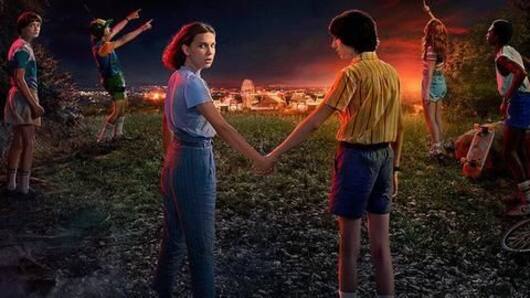 Netflix's 'Stranger Things' is releasing Season 3 in July
2019 is already begging to look much brighter with our favorite shows returning for new seasons.
One of these is Netflix's Stranger Things that was loved for nostalgic recreation of cult sci-fi alien and horror movie atmospheres.
Now, the streaming giant has revealed the air date for the third season of the show, along with a new trailer and poster.
Here's all about it.
'Stranger Things' takes us back to fateful summer in 1985
The new trailer of Stranger Things takes viewers back to New Year's Eve in 1985, and we see clips of Dick Clark's New Year's Rockin' Eve being broadcast.
Just before celebratory fireworks go off, a tagline appears saying 'one summer can change everything' followed by a date, July 4, 1985, when Season 3 is based, before revealing the release date as July 4, 2019.
Love Entertainment news?
Stay updated with the latest happenings.
Yes, notify Me
Netflix followed the trailer with a poster showing the protagonists
Following the trailer, Netflix tweeted a poster showing protagonists Dustin, Lucas, and Max looking at the fireworks in the sky.
Mike, however, is holding Eleven's hand, and seems to be staring at her. Eleven, for her part, appears to be looking at something that is ominously out of frame.
We see Will looking in the same direction as Eleven, presumably seeing the same thing.
Starcourt Mall features in new trailer too
Credits:
The new trailer shows us the Dick Clark broadcast and we see that Starcourt Mall, which was teased earlier, had a commercial running in Hawkins, Indiana during the broadcast.
This, coupled with the fact that the final episode of Season 3 is titled 'The Battle of Starcourt' leads us to believe that the mall will play an important role in the third season.
Upside Down is coming to Hawkins in a big way
The trailer further shows the broadcast screen turn upside down, hinting at the presence of Upside Down, the monster-infested realm of Hawkins.
The poster also showed that Eleven and Will were looking at something out of focus, leading us to believe the monsters from Upside Down might invade Hawkins, culminating in a battle at Starcourt Mall in the season finale.
Will Eleven's other powered friends from season 2 return?
Asked 2019-01-03 00:52:09 by Shreya Jhadav
Answered by NewsBytes
Yes, Kali, Eleven's powered friend from season 2 might return in season 3.
Is Will going to go missing again?
Asked 2019-01-03 00:52:09 by Ayaan Kapur
Answered by NewsBytes
No, I believe the new season will be about Upside Down invading Hawkins, instead of people from Hawkins being kidnapped into Upside Down.
Is Will the connection between Hawkins and Upside Down?
Asked 2019-01-03 00:52:09 by Vihaan Chavan
Answered by NewsBytes
It is entirely possible that Will serves as some sort of conduit between the 2 realms but it is just theory, the show has not confirmed any such thing.
Will 'Stranger Things' release on July 4 globally?
Asked 2019-01-03 00:52:09 by Abhinav Das
Answered by NewsBytes
Yes the July 4 release date is a global release date, so everyone with a Netflix subscription can watch the show on that day itself.