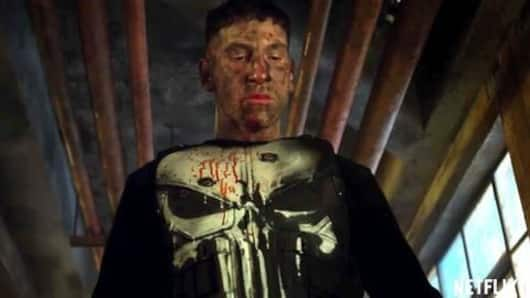 'The Punisher' Season 2 release date and teaser revealed
The Punisher is going to return for a second season as promised.
The character was first introduced to Netflix in Daredevil Season 2.
Gaining popularity, it soon got a spin-off show, which was praised for its grit and action.
The second season, arriving in January, promises to live up to our expectations, from what we can see from the teaser.
Here's all about it.
Frank Castle goes 'back to work' in new teaser
Credits:
Netflix released a new teaser for Season 2 on their official Twitter account.
We see a hand, which is taking a drink of liquor before it proceeds to burn a paper.
The paper happens to be a full and unconditional pardon for one Frank Castle or the Punisher.
As the paper burns, we see the ashes make the iconic Punisher skull logo.
Love Entertainment news?
Stay updated with the latest happenings.
Yes, notify Me
Season 2 release date was inadvertently revealed
While the teaser declared that Season 2 was coming soon, the release date might have been accidentally revealed already.
According to reports, Netflix's official accounts for North Africa and the Middle East had tweeted that The Punisher Season 2 would be arriving on January 18.
Since the tweet has now been deleted, it is likely they made the big reveal before Netflix's planned announcement.
Fully embracing the Punisher persona in Season 2
Credits:
While not much is known about Season 2, Steve Lightfoot, the showrunner said that Frank will completely embrace his Punisher persona in the new season.
We can expect to see more guns and violence as Frank goes on a rampage to stomp out crime.
At the same time, Season 2 is not holding back on political stands as the villain is an 'alt-right' individual.
Could this be the last season of Netflix's 'The Punisher'?
The Punisher is the only other Marvel show apart from Jessica Jones still running on Netflix.
However, fans have already accepted this could be the last season. Jason R. Moore, who plays Curtis, Frank's friend was unsure about Season 2 due to politics around gun violence in USA.
Nonetheless, since Season 2 might be the end, we hope it lives up to fans' expectations.
Will 'The Punisher' go to Disney after this?
Asked 2019-01-03 10:36:04 by Paridhi Trivedi
Answered by NewsBytes
If The Punisher gets canceled on Netflix, it might very likely be headed to Disney since the deal will allow Disney to continue these shows on their platform.
Will Jigsaw return in season 2?
Asked 2019-01-03 10:36:04 by Aarav Khan
Answered by NewsBytes
Yes Frank Castle's main enemy, Jigsaw will return to season 2.
Who is the villain in season 2 of 'The Punisher'?
Asked 2019-01-03 10:36:04 by Sai Jayaraman
Answered by NewsBytes
John Pilgrim, a Christian fundamentalist is one of the villains of season 2, along with returning antagonist Jigsaw.
Will other Marvel characters appear in season 2?
Asked 2019-01-03 10:36:04 by Ridhi Sengupta
Answered by NewsBytes
Karen Page's character might return to season 2 but no other known Marvel heroes of Netflix should be returning.