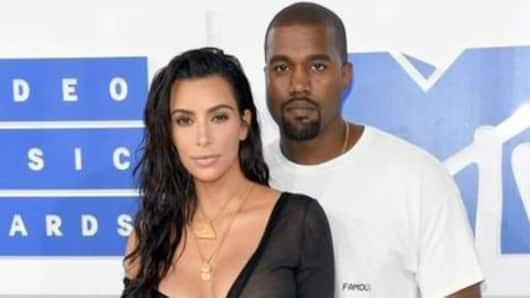 Stork visits Kim Kardashian, Kanye West; fourth child en route
Kim Kardashian and Kanye West are often in the news, and are globally famous personalities.
The couple is happily married, and Kim even recalled changing her wild lifestyle following her 2014 marriage to Kanye.
Now more joy seems to be headed the couple's way, as they are getting ready to welcome their fourth child into the family.
Read all about this exciting news here.
Member no. 6: Baby to be born via surrogacy
Credits:
The new baby, which is due to arrive, is being given birth via surrogacy.
The fourth child is a boy, and is likely to be born in May.
He will have three siblings - North, who is five and half years, Saint aged three years and Chicago who turns 1 on January 15.
Notably, Us Magazine first reported the news about the fourth baby.
Chicago was the first Kardashian-West baby born via surrogacy
For those unaware, Chicago was the first baby born to Kim and Kanye via surrogacy.
The identity of the person who served as the surrogate was kept a secret, but the show Keeping Up With the Kardashians regularly documented the pregnancy process.
Notably, Us Magazine had reported in August 2018 that the couple had a male embryo left, having already used a surrogate.
Love Entertainment news?
Stay updated with the latest happenings.
Yes, notify Me
During North and Saint's birth, Kim had pregnancy troubles
Credits:
Perhaps the decision to have Chicago and the new boy via surrogacy stems from the pregnancy problems Kim faced during the birth of North and Saint.
She suffered from a condition called placenta accreta, where the placenta attaches too deeply to the walls of the uterus.
Due to her complications, Kim opted for the medical safety of surrogacy than bearing a child herself.
Kim always wanted four children and enjoyed the surrogacy process
Sources claim Kim always wanted four kids, and now her dream is coming true via surrogacy.
Though Kim's decision to opt for surrogacy was motivated by medical concerns, she enjoyed the process.
Reportedly insider sources claim that Kanye and Kim love the surrogate.
Going through surrogacy can help Kim spend the time with her older kids, 'getting them used to the new baby'.
Is this Kim Kardashian's first marriage?
Asked 2019-01-03 16:08:29 by Arnav Das
Answered by NewsBytes
No Kim Kardashian has had two marriages and divorces before settling down with Kanye.
Will this pregnancy process be shown on 'Keeping Up With The Kardashians'?
Asked 2019-01-03 16:08:29 by Tejas Lobo
Answered by NewsBytes
This pregnancy process might be shown on Keeping Up With the Kardashians, considering the last surrogate pregnancy was shown.
What is the show 'Keeping Up With the Kardashians' about?
Asked 2019-01-03 16:08:29 by Devansh Nair
Answered by NewsBytes
The show explores the day to day life of the Kardashian family and cashes in on their celebrity status, telling viewers about their lives.
What will be the fourth baby's name?
Asked 2019-01-03 16:08:29 by Hemant Pillai
Answered by NewsBytes
We do not know that yet, but it is a boy, so hopefully, once the child is born he will be named soon.