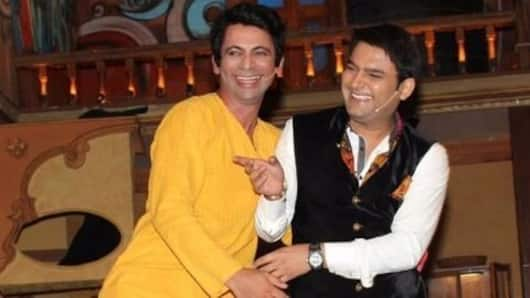 Kapil on Sunil missing his wedding reception: We missed him
2018 marked a new beginning for several couples in B-town including Kapil Sharma. The comedian married his lady love Ginni Chatrath on December 12.
Their wedding was a grand affair which was followed by a reception in Mumbai.
While several A-listers attended Kapil's wedding reception, Sunil Grover's absence caught everyone's eye.
And, now Kapil stated that he missed Sunil at the reception.
Sunil confirmed he would attend Kapil's Mumbai reception
Notably, Kapil-Ginni's wedding in Jalandhar was a close-knit affair and was attended by the couple's family and close friends.
Unsurprisingly, there were speculations if Sunil would be a part of Kapil's celebrations.
However, the comedian-turned-actor put all the speculations to rest after he confirmed he would attend the Mumbai reception.
But on the big day, Sunil didn't turn up
Despite the confirmation, Sunil didn't turn up for the wedding reception on December 24.
His absence did surprise everyone, but it was reported that Sunil missed the event owing to prior work commitments.
However, he sent his best wishes to newlyweds and wished them happiness.
"Wishing @KapilSharmaK9 and @ChatrathGinni a happy married life. May God give you happiness and togetherness always," Sunil tweeted.
Love Entertainment news?
Stay updated with the latest happenings.
Yes, notify Me
Kapil was overwhelmed with Sunil's wishes
Sunil's wishes left Kapil overwhelmed. After all, they have worked together for so long.
Cherishing the old times, Kapil replied to Sunil's wishes in a heart-warming way and said that he missed him there.
Kapil also sent love and best wishes to his old friend via tweet.
"Thank u so much paji.. we missed u .. love n best wishes always," he wrote.
Backstory: Kapil and Sunil parted ways after a mid-air fight
Once known as best friends, Kapil and Sunil parted ways post a mid-air brawl in 2017. Subsequently, Sunil had walked out of The Kapil Sharma Show.
Although Kapil apologized to Sunil on social media, the latter was in no mood to reconcile.
"Thanks for making me realize it was your show. You are best in your field. But don't act like a God," Sunil had said then.
But it's all a thing of the past
As they say, time heals everything. Looks like Kapil and Sunil have also buried their hatchet.
The two comedians put past behind them and wished each other the best in life.
In fact, Sunil even sent best wishes for Kapil's comeback show.
"I pray that he remains happier than earlier and lady luck works for him," he had said.
'TKSS2' could have brought Kapil and Sunil together
Interestingly, there were reports that Kapil and Sunil would reunite for The Kapil Sharma Show 2.
While their fans got all excited, Sunil dismissed the reports saying he isn't a part of TKSS2 because of his busy schedule.
Instead, he came up with his new show Kanpur Wale Khuranas on Star Plus.
We hope Sunil and Kapil would share a stage soon.
Why Sunil Grover missed Kapil Sharma's wedding reception?
Asked 2019-01-05 00:02:04 by Vibhore Rangan
Answered by NewsBytes
Sunil Grover had confirmed his presence at Kapil Sharma's Mumbai wedding reception after the groom personally invited him. However, the Bharat actor, reportedly, missed the reception owing to professional commitments.
Did Kapil Sharma and Sunil Grover called it truce?
Asked 2019-01-05 00:02:04 by Navya Singhal
Answered by NewsBytes
Reportedly, Kapil Sharma and Sunil Grover, who were at loggerheads post their mid-air brawl, have decided to bury the hatchet. The two comedians are seen sharing a cordial relation and often send best wishes to each other.
When will Kapil Sharma and Sunil Grover reunite?
Asked 2019-01-05 00:02:04 by Hemant Balasubramanium
Answered by NewsBytes
Kapil Sharma and Sunil Grover's reunion is a much-awaited thing on Indian Television. While there were reports that they will reunite for The Kapil Sharma Show 2, it turned out to be mere rumors. Although no official announcement about their reunion has been made, we hope the comedians reunite soon.
What was the reason behind Sunil Grover and Kapil Sharma's fight?
Asked 2019-01-05 00:02:04 by Aaryan Singh
Answered by NewsBytes
Kapil Sharma and Sunil Grover parted ways after the former abused him during a flight. Although Kapil did apologize to Sunil on social media, the latter asked him to he must not act like 'God' after tasting success.