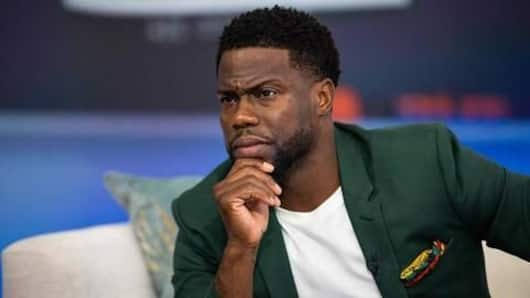 Oscars ready to take back Kevin Hart as host?
Kevin Hart was supposed to host this year's Oscars as we had reported.
However, soon after the announcement, his past caught up with him as old homophobic tweets resurfaced.
As a result, Hart stepped down from his role as the host.
However, following an appearance on The Ellen Show where he alternately showed contrition and defiance, Oscars may be willing to take him back.
Oscars: If Hart wants the job, he has the job
Credits:
The higher-ups at the Oscars maintain that they will be open to Hart resuming his role as emcee if he indicates that he wants the job.
It was reported that they were willing to accept him if the indication came from his social media account or through a spokesperson.
Notably, Oscars' stance is surprising in face of the controversy Hart faced for homophobic tweets.
Oscars trying to plan their event in absence of host
Following Hart's exit as the host, the Oscars have struggled to find a replacement.
While Hart still remains at the top of their wish list, desperate times have called for desperate measures.
Therefore, show producer Donna Gigliotti along with her team have been working without breaks at finding alternatives to Hart.
One of the options even includes a cameo-heavy Oscars without a host.
Love Entertainment news?
Stay updated with the latest happenings.
Yes, notify Me
Oscars admit they handled Hart's accusations wrongly
Ellen DeGeneres said that people at the Oscars repeatedly insisted they wanted Hart to host the upcoming show.
They admitted there might have been a misunderstanding with Hart, or they might have handled the thing wrongly or said something that offended the comedian.
However, they wanted to make things right, whatever it took, as long as Hart would agree to return to the show.
Ellen also urged Hart to accept the role as host
Apart from the Oscars itself wanting Hart's return, Ellen too urged him to reconsider his decision.
She asked Hart to be the bigger person and not pay attention to his haters.
With Hart hosting, Ellen believes, what we will see on stage is, "sophistication, class, hilarity and you growing as a person".
She concluded asking Hart not to walk away from the role.
Hart's reaction and his decision give us hope
Credits:
Amid a lot of confusion, Hart has replied that the criticism against him was by trolls who wanted to destroy his career and all the people who invested their lives in him.
He asserted that he did not have a homophobic bone in his body.
Hart is also said to be considering Ellen's advice and 'evaluating' her plea to host the Oscars.
Not much time for Hart to make his decision
Considering the plea and Hart's initial excitement to host the Oscars, he might return to his role. However, he has to make his decision known soon. With the Oscars less than two months away, the show needs a host to create hype and increase viewership.
When is the 2019 Oscars?
Asked 2019-01-05 17:45:46 by Anika Mehta
Answered by NewsBytes
February 25, 2019, is the date the Oscars will be held.
At what time is the Oscars going to take place?
Asked 2019-01-05 17:45:46 by Ridhi Nair
Answered by NewsBytes
The Oscars start at 6:30 am Indian Standard Time.
Who is Ellen DeGeneres?
Asked 2019-01-05 17:45:46 by Saanvi Kapoor
Answered by NewsBytes
Ellen DeGeneres is an American comedian, actress and tv show host.
Which Oscars is this?
Asked 2019-01-05 17:45:46 by Vibhore Patel
Answered by NewsBytes
This will mark the 91st Academy Awards.