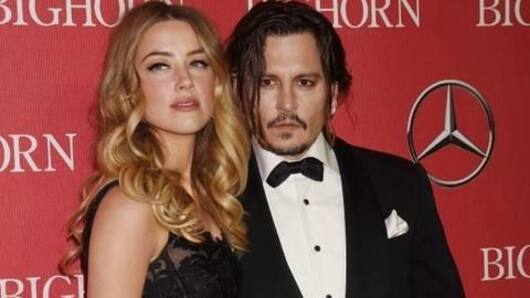 Ex-wife Amber Heard terrified of Johnny Depp's abusive alter-ego
Amber Heard and Johnny Depp went through a messy divorce after the former accused the latter of domestic abuse.
Now all of their altercations have risen to the surface as The Hollywood Reporter has obtained a previously unseen deposition.
It sheds light on Heard's fear of Depp's dark abusive side while showing the conflicting accounts from the Hollywood bigwigs.
Read all about it here.
Was 'petrified of the monster', says Heard
Heard claimed being petrified of Depp's other personality, a dark part that was present when he abused her.
"We call that the monster, have called [that] the monster for many years," indicating the abuse went on for a long time.
She spoke about the altercation on May 21, 2016, saying Depp had thrown a phone at her face, injuring her, before yanking her hair.
Neighbor and police give conflicting accounts of the incident
Heard's neighbor Raquel Pennington came over to the apartment on the night of the assault at her behest. She claims having seen Depp swinging a bottle of magnum wine knocking things over.
Raquel also claimed taking pictures of Heard's bruises that night.
Responding LAPD officers, however, testified to not seeing signs of injury on Heard's face or broken items on the apartment floor.
Love Entertainment news?
Stay updated with the latest happenings.
Yes, notify Me
Depp paints different picture, says Heard was 'aggressive and violent'
Depp paints the picture of abuse differently.
He said Heard was 'aggressive and violent', having punched him twice in the face for being late to her birthday party on April 21, 2016.
On May 21, Depp claims, he tossed the phone on the sofa and never hit Heard.
He further claimed his guards accompanied him as he was concerned of what Heard might do.
The testimony's importance in case between Depp and 'The Sun'
The testimonies and accounts have added importance in light of the upcoming trial between Depp and UK tabloid The Sun.
Depp sued them for defamation over a story in April 2018, titled 'How can J.K. Rowling be 'genuinely happy' casting wife-beater Johnny Depp in the new Fantastic Beasts film?'
The story referenced Depp's abusive nature and Heard's application for a restraining order against him.
'The Sun' has to prove Depp is lying, using testimony
The law in the US and UK work differently.
In the former, the accuser has to prove the defamatory statement is false. However, in the UK, the defendant has to prove that the statement is true.
Heard might be disallowed from testifying in the UK proceedings due to a nondisclosure agreement.
Thus her previous testimony becomes key for The Sun to disprove Depp's account.
How will this effect Heard's career?
Asked 2019-01-05 18:42:36 by Rajesh Pawar
Answered by NewsBytes
Heard has already said that her career has severely been affected for speaking out against Depp. But at least she has a steady role as Mera in the DCEU now.
How has this affected Depp's career?
Asked 2019-01-05 18:42:36 by Cheshta Jhadav
Answered by NewsBytes
Depp's career and image certainly took a blow but it seems as though he is doing well enough for himself in the Fantastic Beasts franchise.
Will Johnny Depp go to prison if The Sun wins?
Asked 2019-01-05 18:42:36 by Chirag Lobo
Answered by NewsBytes
No, Depp will merely lose the defamation case he filed if The Sun wins. However, the world will know he really is guilty of domestic abuse.
Will Amber Heard be present at the trial?
Asked 2019-01-05 18:42:36 by Angel Kapoor
Answered by NewsBytes
Though Heard might not appear due to an NDA, Depp's team has said she can testify if The Sun summons her, so she might be present at the trial.