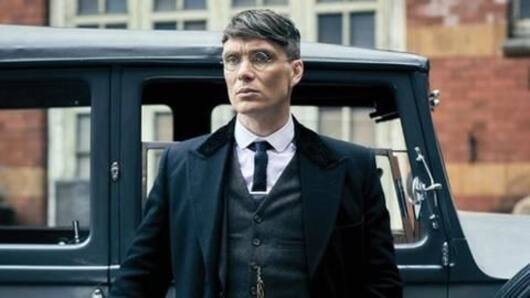 Legendary footballer David Beckham launches 'Peaky Blinders' themed fashion line
Peaky Blinders is one of the most popular period crime dramas on television.
The show follows the exploits of the Shelby family of Birmingham as they expand their criminal empire while trying to move towards legitimacy.
Now, in an interesting development, David Beckham, retired legendary English footballer, has announced, a new clothing collection in collaboration with the famous show.
Here are the details.
'Peaky Blinders' comes to London Fashion week
Credits:
Beckham co-owned fashion label, Kent & Curwen, unveiled the new collection, which was made in collaboration with the Cillian Murphy-starring show.
The unveiling took place at the London Fashion week which was held this weekend and showed off the winter and autumn collections that included some staple looks made famous by the show that is set in the 1920s era.
Iconic flat cap included in fashion collection, among other clothes
The collection sports many apparels including grandad shirts, wool overcoats, waistcoats, and the flat cap, which earned the Peaky Blinders their name, and is the most iconic aspect of their outfit.
The range has been labeled 'The Garrison Tailors' after the Birmingham pub owned by the Shelbys, and the labels read 'By order of the Peaky Blinders,' referring to the gang's famous enforcing motto.
Love Entertainment news?
Stay updated with the latest happenings.
Yes, notify Me
Beckham, the show's fan, says his brand is about authenticity
Credits:
Beckham, when asked about the collaboration, said he was 'a big fan of the show'.
He also said their brand had always been about the look, and he needed to maintain 'that authenticity'.
However, the Peaky flat cap was a fashion tip Beckham picked up from his grandfather, from an early age.
His son, Brooklyn, has developed a love for flat caps as well.
'Peaky Blinders' congratulates Beckham on the launch
Apart from fashion, 'Peaky Blinders' getting ready for new content
Apart from the fashion collaboration, Peaky Blinders is coming up with some fresh new content for fans.
The new season is scheduled to release this year and promises to be explosive as we saw a small clipping of family patriarch Thomas Shelby left dazed after a car explosion.
There is also news about a Peaky Blinders movie in the works, as we had reported.
Where can I see Peaky Blinders?
Asked 2019-01-08 15:29:33 by Ankita Mittal
Answered by NewsBytes
Peaky Blinders is available on Netflix. Else you can try and stream or download it online.
Will we get Peaky Blinders clothes in India?
Asked 2019-01-08 15:29:33 by Cheshta Sharma
Answered by NewsBytes
No, not directly, though you can try purchasing the clothes online and see if they ship to India.
Who attended the launch with Beckham?
Asked 2019-01-08 15:29:33 by Aarav Chattopadhyay
Answered by NewsBytes
Beckham's wife, Posh, mother Sandra and son Brooklyn were all in attendance at the show.
Has Beckham completely retired from football?
Asked 2019-01-08 15:29:33 by Ankita Mehra
Answered by NewsBytes
Yes, Beckham has completely retired from the world of football.