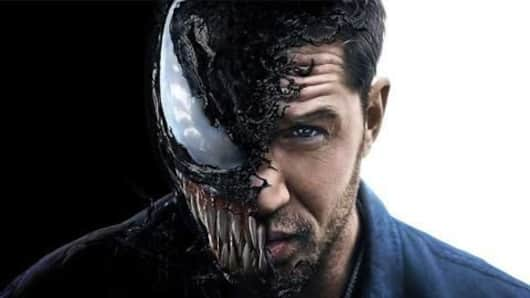 'Venom' sequel might be in the works, to feature Carnage
Our favorite anti-hero symbiote might be returning to the screens.
Tom Hardy-starrer Venom released in 2018 and now reports suggest that a sequel is in the works.
Notably, the upcoming film might include Carnage, who was teased in the post-credits of the first movie.
While Sony has declined to comment on the sequel, here is all that we know about it.
Despite poor reviews, 'Venom' was a box-office success
Credits:
Despite bad reviews, Venom went on to make $855 million in the global box-office.
The success might have prompted the sequel, which will be written by Kelly Marcel who also worked on the first movie.
Ruben Fleischer, the first film's director had expressed interest in being involved in the sequel as well.
It is being produced by Avi Arad, Amy Pascal, and Matt Tolmach.
Sequel will see Tom Hardy return, might introduce Carnage
The post-credits of Venom showed Woody Harrelson playing Cletus Kasady.
Comic fans know that the deranged serial killer Kasady becomes Carnage, the arch nemesis of Venom.
The sequel will most likely head in that direction with Hardy returning to play Eddie Brock or Venom.
Michelle Williams returns as Brock's love interest Anne Weying, and we hope she becomes She-Venom like the first movie teased.
Love Entertainment news?
Stay updated with the latest happenings.
Yes, notify Me
Possible release date for the movie
While nothing has been fixed yet, we had earlier speculated that Sony Pictures might release the upcoming Venom film on October 2020, as it had been marked for a Marvel sequel. Notably, the first film released in 2018 around the same time.
Sony is building a solid shared Marvel universe
Credits:
Sony is making solid steps towards a shared Marvel universe creation.
Venom was the first character to get a movie and this was followed by the acclaimed animated movie Spider-Man: Into the Spider-Verse, which won a Golden Globe.
They also have a Morbius movie with Jared Leto in the works, and coupled with the news of the Venom sequel, Sony's future looks bright.
What is a Symbiote?
Asked 2019-01-08 17:04:24 by Trishla Gupta
Answered by NewsBytes
A symbiote, in the movie, is an alien life form that attaches itself to the host, giving it powers.
Is Venom a hero or villain?
Asked 2019-01-08 17:04:24 by Sanvi Rao
Answered by NewsBytes
Venom has been portrayed more as an anti-hero than a hero in comics, but definitely has a darker villainous side to it.
Will the old director return?
Asked 2019-01-08 17:04:24 by Vibhore Malhotra
Answered by NewsBytes
Since Ruben Fleischer might be busy directing the Zombieland sequel, the upcoming movie could have a new director.
Will there be a Stan Lee cameo in the film?
Asked 2019-01-08 17:04:24 by Charvi Jaiteley
Answered by NewsBytes
No, the film is still in the works, so it has not shot a Stan Lee cameo scene. Therefore, owing to the legend's demise the sequel will not include a Lee cameo.