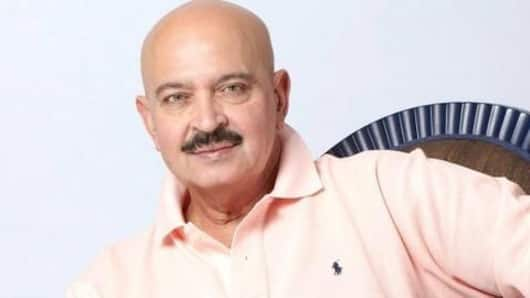 Done with cancer surgery, Rakesh Roshan confirms he's recovering fast
On Tuesday morning, Hrithik Roshan sent the social media into a tizzy after he revealed that his father Rakesh Roshan was suffering from throat cancer.
He has been diagnosed with the early-stage squamous cell carcinoma of the throat and underwent a surgery yesterday.
While the news of Rakesh's cancer diagnosis got fans worried, the actor-turned-director confirmed that he is recovering well after the surgery.
Rakesh will be discharged soon
In a statement, Rakesh assured his fans that the surgery went fine and he was feeling alright.
He mentioned that he would be back home by this weekend.
"I am feeling all right. Surgery is done and all is okay. God is great. I am going to be back home on Friday or Saturday," Rakesh said.
Certainly, a sigh of relief for fans.
Rakesh was undaunted by cancer diagnosis
Notably, Rakesh was diagnosed with the big C a couple of weeks ago. But he turned out to be a true fighter and wasn't dismayed by the diagnosis.
"Ever since the diagnosis, Rakeshji has been upbeat cheerful and not at all daunted by the setback. He went into surgery with his family by his side and it went smoothly," a source was quoted saying.
Love Entertainment news?
Stay updated with the latest happenings.
Yes, notify Me
Rakesh was in full spirits before surgery
Further, Hrithik posted a picture of him and his father on Instagram as he revealed the news of Rakesh's cancer diagnosis
Hrithik stated Rakesh was in full spirits and didn't miss the gym ahead of the surgery.
"He is probably the strongest man I know. As a family we are fortunate and blessed to have a leader like him," he wrote in the caption.
Bollywood wishes Rakesh speedy recovery
Soon after Hrithik's revelation, Bollywood celebrities sent their best wishes to Rakesh and wished him a speedy recovery.
Hrithik's ex-wife Sussanne Khan wrote that Rakesh is stronger than any superhero.
Tiger Shroff too voiced similar wishes and said Hrithik has a superhero's DNA.
Manisha Koirala, who is a cancer survivor, said, "I am sure he will come out of it as a winner".
PM Modi calls Rakesh a fighter
Not only Bollywood celebrities but Prime Minister Narendra Modi also wished 'fighter' Rakesh.
PM Modi tweeted, "Praying for the good health of Shri Rakesh Roshan Ji. He is a fighter and I am sure he will face this challenge with utmost courage".
Overwhelmed by PM Modi's concern, Hrithik expressed his gratitude and informed him that Rakesh's surgery went well.
Hrithik thanked PM Modi for his wishes
Thank you Sir for your concern and good wishes. I am very happy to inform that according to the doctors his surgery has gone off well. 🙏🏻 https://t.co/BS42lCy0Kn

— Hrithik Roshan (@iHrithik) January 8, 2019
Rakesh to return to direction with 'Krrish 4'
On the work front, Rakesh will be making a comeback to direction after five years with Krrish 4. He announced Krrish 4 last year and confirmed that the movie would release on Christmas 2020. Rakesh's last directorial was Hrithik-starrer Krrish 3 which released in 2013.
What is Rakesh Roshan's health update?
Asked 2019-01-09 21:03:24 by Parakram Jhadav
Answered by NewsBytes
Rakesh Roshan is suffering from with early-stage squamous cell carcinoma of the throat. The veteran actor underwent a surgery yesterday which went well. Rakesh is reportedly recovering well and will be discharged by this weekend.
Is Rakesh Roshan suffering from cancer?
Asked 2019-01-09 21:03:24 by Shreya Jindal
Answered by NewsBytes
Yes! Rakesh Roshan has been diagnosed with early-stage squamous cell carcinoma of the throat. It is caused by the uncontrolled growth of abnormal squamous cells.
When is 'Krrish 4' releasing?
Asked 2019-01-09 21:03:24 by Shreya Balasubramanium
Answered by NewsBytes
Rakesh Roshan announced the fourth installment of his superhero Krrish franchise last year. The movie is expected to release on Christmas 2020 and will have Hrithik reprising his role of a superhero in the movie. The remaining cast is yet to be finalized.
Which are the movies directed by Rakesh Roshan?
Asked 2019-01-09 21:03:24 by Hansika Verma
Answered by NewsBytes
Rakesh Roshan is one of the renowned director-producer of Bollywood. He has given several hit movies as a director which includes Khoon Bhari Maang, Karan Arjun, Kaho Naa.... Pyaar Hai, Koi.... Mil Gaya, Krrish, etc.