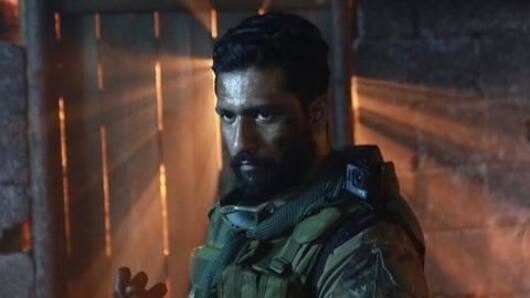 #Uri: Vicky Kaushal's starry mid-air promotion video breaks the internet
2018 was a fantastic year for Vicky Kaushal. The actor was a part of three hit movies: Raazi, Sanju and Manmarziyaan and won hearts with his impressive performances.
The year helped Vicky carve a niche for himself in the industry.
And Vicky has started 2019 with a bang as his movie Uri: The Surgical Strike hit screens today.
Ahead of release, he promoted the movie in a unique manner.
'Uri' is a tribute to 'New India'
Helmed by Aditya Dhar, Uri is based on Indian military's surgical strike on Pakistan-Occupied Kashmir in 2016.
The Indian army retaliated after Pakistani militants attacked an army base in Uri killing 18 soldiers.
The Indian army hit back on 29 September. Their precision gave no opportunity to the militants and rattled Pakistan.
Uri is a tribute to 'New India' which is fearless.
Just like the movie, the promotions were unique too
Vicky is exceptionally excited for his first release of the year and is leaving no stone unturned to promote Uri.
Notably, in this quest of his, Bollywood stars helped Vicky. Actors like Ranbir Kapoor, Alia Bhatt, Varun Dhawan, Bhumi Pednekar, Ranveer Singh and Rajkummar Rao gave a mid-air shoutout to Uri.
The video shared by Vicky has gone viral on social media.
Love Entertainment news?
Stay updated with the latest happenings.
Yes, notify Me
"How's the josh", asks Vicky. Bollywood's response here
In the video, Bollywood A-listers were seen in full josh as they cheered for Vicky'sUri.
Vicky (in his military tone) asked the group "How's the josh?". And just like the soldiers, celebrities replied "High Sir".
These celebrities also gave a patriotic feel as they screamed Jai Hind on top of their lungs.
Now that's what you call a promotion!
Is this patriotism a Modi effect? Amit Malviya says so
Vicky's promotional video made everyone patriotic. But this feeling got a political twist after Amit Malviya, BJP's social media head called this 'Prime Minister Narendra Modi's effect'.
Sharing Vicky's video on Twitter, Malviya wrote Bollywood celebrities have never been seen chanting Jai Hind with such patriotism before.
He claimed that this nationalism among Bollywood's personalities was because of PM Modi.
BJP's Malviya takes credit for celebrities' nationalism
Have we ever heard film-stars chanting Jai Hind like this before?

This is what changed in 4 years! pic.twitter.com/mT7Qlj9kpd

— Amit Malviya (@amitmalviya) January 10, 2019
Malviya's tweet gets users talking
Malviya's tweet didn't go down well with Twitter users who slammed him for politicizing everything. "Looks like you were sleeping all your life and woke up only in 2014. Kuch bhi," wrote a Twitter user. There were many more reactions.
Don't politicize patriotism!
What do u mean by that ?
Are they anti national?
Here Mr modi has to do nothing.
It's their love for their country that compelled them to chant jai hind.
Don't try to politicize it.

— Girija Shankar Lenka (@imlenkagirija) January 10, 2019
And, KJo has nice things to say about 'Uri'
HOWS THE JOSH??? VERY HIGH SIR!!! What an incredible film #URI is!!! Walked out feeling a burst of patriotic energy! Superbly crafted,narrated, shot and executed! This ones an immensely proud box office winner!!! DONT MISS IT!!!!

— Karan Johar (@karanjohar) January 11, 2019
What is the cast of 'URI'?
Asked 2019-01-11 13:47:22 by Shreyas Gupta
Answered by NewsBytes
Helmed by Aditya Dhar, URI features Vicky Kaushal, Yami Gautam, Paresh Rawal, Mohit Raina and Kirti Kulhari in lead roles.
What is the story of 'URI'?
Asked 2019-01-11 13:47:22 by Charvi Rodrigues
Answered by NewsBytes
Vicky Kaushal's URI is based on Indian Army's surgical strike on Pakistan-Administered Kashmir in 2016. The surgical strike was planned eleven days after the deadliest Uri attack that killed 18 people.
What is Vicky Kaushal's role in 'URI'?
Asked 2019-01-11 13:47:22 by Trisha Nair
Answered by NewsBytes
After impressing the audience as a bindas boyfriend, a loving husband and a loyal friend, Vicky Kaushal will be seen winning hearts as an Indian Army officer in URI. The actor will be leading the surgical strike to eliminate the militants in the movie.
Who all promoted 'URI' along with Vicky Kaushal?
Asked 2019-01-11 13:47:22 by Rakesh Chopra
Answered by NewsBytes
Vicky Kaushal recently shared a video featuring several celebrities promoting URI with full josh. The video featured celebs like Vicky Kaushal, Karan Johar, Rohit Shetty, Alia Bhatt, Ranbir Kapoor, Ranveer Singh, Ayushmann Khurrana, Bhumi Pednekar, Rajkummar Rao, Karan Johar etc.