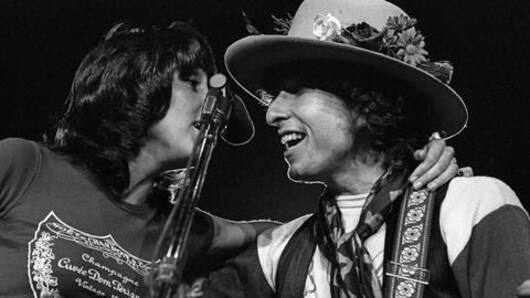 Bob Dylan and Martin Scorsese team up for Netflix documentary
Bob Dylan is one of the world's greatest poets and songwriters, known for equal mastery in lyrics that permeate the scorn and sweetness in love, and are sharp social commentaries on injustice.
Rumors were circulating that a documentary would be made on Dylan's star-studded Rolling Thunder Revue tour of 1975-76.
It now appears Martin Scorsese is directing the documentary, arriving on Netflix in 2019.
Title announced, but release date seems to be under wraps
Credits:
The upcoming documentary has been titled Rolling Thunder Revue: A Bob Dylan Story by Martin Scorsese.
While some sources claim the documentary could arrive on Netflix around early spring, others say the documentary has months before it arrives.
It is expected to include interviews from the camera shy Dylan himself, along with other stars who were part of the acclaimed tour.
Description: 'Part documentary, part concert film, part fever dream'
Netflix describes the upcoming documentary as capturing America's troubled spirit in 1975 while setting it against the joyous music that Dylan performed during the fall of that year.
It has been hyped as being a 'part documentary, part concert film, part fever dream' from the acclaimed director Scorsese who also made the 2005 film on the Nobel prize winner, titled No Direction Home.
Love Entertainment news?
Stay updated with the latest happenings.
Yes, notify me
Scorsese collaborates again with Dylan's manager for interviews
For those unaware, Scorsese had depended on Dylan's manager Jeff Rosen, while conducting interviews for No Direction Home. Once again he has turned to collaborate with the longtime veteran to organize interviews with the stars of the Rolling Thunder Revue tour.
Attended by major stars, documentary might feature big interviews
Credits:
The Rolling Thunder Revue tour happened between 1975 and 1976.
Dylan performed in various cities, singing duets with Joan Baez.
The tour included notable personalities like beat poet Allen Ginsberg and other performers like Ramblin' Jack Elliott and Roger McGuinn.
There were also famous one-off special guests like Patti Smith, Ringo Starr, Joni Mitchell.
We hope the documentary features interviews with some of them.
Apart from documentary, Scorsese has a big film lined up
2019 is a big year for Scorsese. He is working on projects he loves the most, the mob and music. Apart from the documentary on Dylan's tour, the acclaimed director has another Netflix movie scheduled to release in 2019, titled The Irishman.
What did Bob Dylan win the Nobel prize for?
Asked 2019-01-11 18:37:13 by Dhruv Singhal
Answered by NewsBytes
Dylan received the Nobel prize for literature.
What are Martin Scorsese's best movies?
Asked 2019-01-11 18:37:13 by Sai Kapoor
Answered by NewsBytes
Scorsese's best movies include Goodfellas, Casino, Taxi Driver.
Who is acting in 'The Irishman'?
Asked 2019-01-11 18:37:13 by Pari Patel
Answered by NewsBytes
The Irishman stars Robert De Niro, Al Pacino, Joe Pesci.
Can I see 'The Irishman' in India?
Asked 2019-01-11 18:37:13 by Shreyas Mittal
Answered by NewsBytes
Yes, provided you have a Netflix connection, you can stream The Irishman on Netflix.