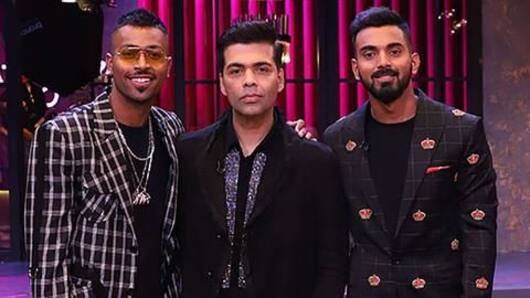 Pandya made nonsensical remarks, KJo laughed. That's a problem!
Two of the brightest players of Indian cricket Hardik Pandya and KL Rahul were suspended on Friday after their debut appearance in Koffee With Karan snowballed into a controversy.
Pandya's sexist and racist remarks, which he thought would cement his position as a 'cool' cricketer, got him into deep trouble.
While we know what the cricketers did wrong, one can't absolve host Karan Johar.
Here's why.
Pandya's comments were dipped in sexism and racism
On Sunday, the episode featuring Pandya and Rahul was aired and it had too many problems.
Concluding Pandya sees women as objects, thinks losing virginity and boasting about it to his parents is incredible and considers Carribean culture is about sex and booze, won't be hyperbole.
Throughout the episode, Pandya showed he might hit sixes on the field but off-field he is unbearable.
Rahul found nothing wrong in Pandya's words
Pandya was joined by Rahul on the couch. Though his statements weren't problematic, the way he spoke about his friend Pandya showed Rahul was party to all his actions.
When Pandya bragged he has 'been with cheerleaders', Rahul nodded like it was absolutely normal.
That Pandya flirted with girls simultaneously and they complained to Rahul also didn't seem off to the latter.
Love Entertainment news?
Stay updated with the latest happenings.
Yes, notify Me
Cricketers have been punished, KJo is far away from trouble
The cricketers' presence on the show and their comments got us thinking about the gentleman's game and it losing its lustre.
While Pandya and Rahul have been reprimanded (and rightly so) for their conduct, not much attention is being paid to KJo.
This season of KWK is about not making sense (as the text on the sets reads) but KJo should have known better.
Nothing Pandya said was funny, yet KJo laughed
Now, let's start with the obvious- KWK is a frivolous show, celebrities make stupid statements and KJo has an unexplainable penchant for knowing details about people's sex lives.
All this we get. KJo's smiles during Pandya's blatant show of sexism, we don't.
Every time Pandya uttered something obnoxious, KJo laughed cheekily. This only promoted Pandya to say more problematic things.
KJo says sexism needs to go but does otherwise
KJo's behavior is also hypocritical. Recently, KJo accepted Bollywood played a big role in promoting sexism and objectifying women.
He said he wouldn't have songs like Chikni Chameli in his movies now and would do all he can to make the industry a better place for women.
Cut to his show and KJo felt laughing at Pandya's 'quests' was amazing. We are 'impressed'.
What happened on Koffee With Karan?
Asked 2019-01-11 20:04:22 by Aaryan Patil
Answered by NewsBytes
Hardik Pandya made sexist and misogynist remarks during his debut appearance on Koffee With Karan. He was accompanied by KL Rahul on the show.
What happened after the show was aired?
Asked 2019-01-11 20:04:22 by Shreya Trivedi
Answered by NewsBytes
Hardik Pandya apologized for his statements but that wasn't enough. Rahul and Pandya were suspended pending inquiry.
Was action taken against Koffee With Karan?
Asked 2019-01-11 20:04:22 by Sanvi Rathore
Answered by NewsBytes
The controversial episode of Koffee With Karan was pulled down by Hotstar.
What did Virat Kohli say on the row?
Asked 2019-01-11 20:04:22 by Parakram Mukopadhyay
Answered by NewsBytes
Captain Virat Kohli said the remarks were not reflective of the team.