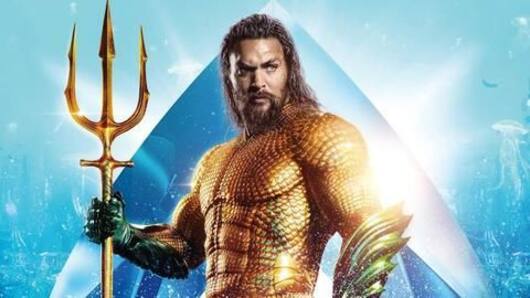 DC's 'Aquaman' movie a smash hit, joins billion dollar club
Aquaman has now literally made a huge splash at the box office by entering the billion-dollar club.
The latest project of the DCEU starring Jason Momoa and directed by James Wan has also been praised by critics for its stunning visuals.
Its worldwide box office collections accurately reflect its popularity.
Read here to know how much Aquaman earned and the records it made.
Domestic and international success help 'Aquaman' hit jackpot
Credits:
Yesterday Aquaman hit the billion dollar mark.
It was released last December and has gone on to earn immense amounts in both its domestic and international markets.
It made $288 million or Rs. 2,039 crore approximately in the domestic market and $742 million or around Rs. 5,254 crore internationally.
This brings its total earnings to $1.02 billion or Rs. 7,223 crore approximately.
'Aquaman' sets a record for DC movies
Aquaman has now become the first movie after Christopher Nolan's film, Dark Knight Rises, to reach the billion mark.
Overall, it is the third DC movie after The Dark Knight and Dark Knight Rises to reach the billion mark.
The commercial success of Aquaman is good news for DC and Warner Bros. who have been struggling to match Disney's Marvel movies' blockbuster successes.
Love Entertainment news?
Stay updated with the latest happenings.
Yes, notify Me
'Momoa gold standard for this character for generations to come'
Credits:
Wan released a statement thanking fans. He shared his love with audiences around the world for supporting the movie and making it a huge success.
The acclaimed director then went on to praise Momoa who has managed to turn Aquaman into 'one of the coolest, cinematic superheroes ever', and for 'becoming the gold standard for this character for generations to come'.
Is DC heading towards success now?
Wonder Woman and now Aquaman has proven to DC the kind of formula works for superhero movies to become a commercial success. Hopefully, they will apply this formula to the upcoming Wonder Woman 1984 and Shazam! movies to finally portray their comics brilliantly on screen.
Who is the villain in 'Aquaman'?
Asked 2019-01-14 14:56:51 by Amit Banerjee
Answered by NewsBytes
Patrick Wilson's character Orm is the villain in Aquaman.
What is Aquaman's name?
Asked 2019-01-14 14:56:51 by Divya Dutta
Answered by NewsBytes
Aquaman's name is Arthur Curry.
Where can I watch 'Aquaman' online?
Asked 2019-01-14 14:56:51 by Arjun Chattopadhyay
Answered by NewsBytes
You could try streaming or downloading Aquaman but a few theatres might still be running the show so go watch it.
Will an 'Aquaman' sequel come out?
Asked 2019-01-14 14:56:51 by Tejas Yadav
Answered by NewsBytes
Yes, an Aquaman sequel should come out following the commercial success of this film.