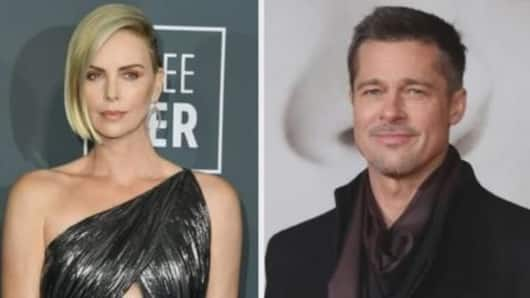 Brad Pitt and Charlize Theron are dating each other
Hollywood might have a new golden couple to root for as reports suggest that Brad Pitt is now dating Charlize Theron.
The 55-year-old actor is one of the most acclaimed names of Hollywood and has reportedly been seeing the 43-year-old Theron for some time.
Although the potential couple has not announced anything yet, reports from sources hint at a blossoming romance.
Read it here.
Pitt-Theron have been dating for a month, source claims
Credits:
According to reports, Pitt and Theron have been dating for almost a month now.
Ironically, they were introduced to each other by Theron's ex, Sean Penn.
Speaking on the relationship, a source of The Sun said, "They have been casually seeing each other for nearly a month now. They've been friends for some time - ironically through Sean - but things have developed".
The couple was also spotted getting cozy in Los Angeles
Apart from the source's reports, Pitt was also spotted getting cozy with Theron at the Chateau Marmont in Los Angeles, where Theron was the guest of honor for a screening of Alfonso Cuaron's Roma.
The two were spotted at the bar, in a corner, and appeared to be cozying up to each other.
Pitt had his arm around her back and winked at her.
Love Entertainment news?
Stay updated with the latest happenings.
Yes, notify me
Source claims Pitt was looking really happy
Credits:
As the couple continued enjoying their evening, reports suggest Theron kept downing vodka cocktails, while Pitt stuck to mineral water, having quit drinking after his split with Angelina Jolie.
Seeing them spend time together, reports suggest that both the Fight Club actor and the Oscar-winning actress looked incredibly happy.
A source further reported that 'Brad seemed in a really good place'.
Theron and Pitt's last public relationships
Pitt's last public relationship was with Angelina Jolie. They were Hollywood's most iconic couple till they split up in 2016.
Since then Pitt had been rumored to have been dating acclaimed architect Neri Oxman who teaches at MIT. However, these rumors turned out to be false.
Theron last dated 58-year-old Penn, with whom she split in 2015.
Here's hoping Pitt-Theron's new romance works out.
What are Brad Pitt's best movies?
Asked 2019-01-21 17:28:37 by Charvi Mehra
Answered by NewsBytes
Fury, Inglourious Basterds, Fight Club, Se7en are some of Pitt's best movies.
What did Theron win an Oscar for?
Asked 2019-01-21 17:28:37 by Aradhya Jhadav
Answered by NewsBytes
Theron won an Oscar for her role in Monster.
Has Pitt been married before?
Asked 2019-01-21 17:28:37 by Devansh Vyas
Answered by NewsBytes
Yes, Pitt has been married to Jennifer Aniston before marrying Angelina Jolie.
What movie is Pitt appearing in next?
Asked 2019-01-21 17:28:37 by Rajesh Patil
Answered by NewsBytes
Pitt's next big movie is Once Upon a Time in Hollywood, with Quentin Tarantino.