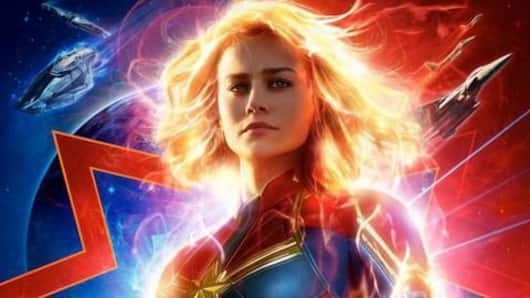 'Captain Marvel' website will take you back to the 90s
Captain Marvel is about to arrive in theaters on March 8, and they are pulling out all stops to make viewers feel at home with the period in which the film is set.
Nostalgia is a huge crowd puller, and Marvel is capitalizing on that by designing the website to reflect the film's setting.
Check out the film's website, which is a 90s wonderland.
The trailers have constantly tried to portray a 90s setting
Credits:
While getting fans hyped about the upcoming film, the trailers have constantly tried to focus on the 90s setting of the movie.
In reality, the film is going to be set in 1995 and as we have seen from previous peeks, Carol Danvers or Captain Marvel sports a leather jacket, which gives her a really grunge look, keeping with the fashion of the times.
Website designed to resemble old arcade games
The website is going to take 90s kids down the memory lane, as it resembles old arcade games, replete with animated texts that flash in simple fonts.
The buttons 'Info', 'Multimedia', 'Guestbook' and 'Play the Game' are designed to resemble old computer keys.
Notably, the website for Captain Marvel purposely shies away from the ultra-slick designs that most superhero film websites opt for.
Love Entertainment news?
Stay updated with the latest happenings.
Yes, notify Me
The website encourages users to increase interactive activity
Credits:
New websites tend to opt for slideshows and other features, trying to reduce user activity to a minimum, thus focusing on the visual experience only.
However, the Captain Marvel website purposely increases the interactive experience, by forcing you to physically click through the characters, listed on the webpage.
This activity accompanied by the film's description in bright yellow feels oddly satisfying and comforting.
Skrull identifying game is a good touch to the website
Apart from sharing details about and promoting the movie, the website also asserts how dangerous the shapeshifting Skrulls are.
In an ingenious game, users have to choose whether certain people on a train are humans or Skrulls.
While the game itself is not too difficult, it drives home the point, how easily Skrulls could be living among us and why we need Captain Marvel.
While website is nostalgic, film promises to be slick
While the website for Captain Marvel might inspire nostalgia, the movie itself is going to be an ultra-slick and awe-inspiring experience. Focusing on an alien interracial Kree-Skrull war, the technically astounding film is going to host some cutting edge technological advancements.
When is Captain Marvel releasing?
Asked 2019-02-10 00:03:08 by Aadhya Powar
Answered by NewsBytes
Captain Marvel hits theaters on March 8.
Who plays Captain Marvel?
Asked 2019-02-10 00:03:08 by Arjun Subramanium
Answered by NewsBytes
Brie Larson plays Carol Danvers aka Captain Marvel.
Who directed Captain Marvel?
Asked 2019-02-10 00:03:08 by Saanvi Shah
Answered by NewsBytes
Anna Boden and Ryan Fleck are directing the Captain Marvel movie.
When is 'Avengers: Endgame' releasing?
Asked 2019-02-10 00:03:08 by Pranav Rao
Answered by NewsBytes
Avengers: Endgame is releasing on April 26.