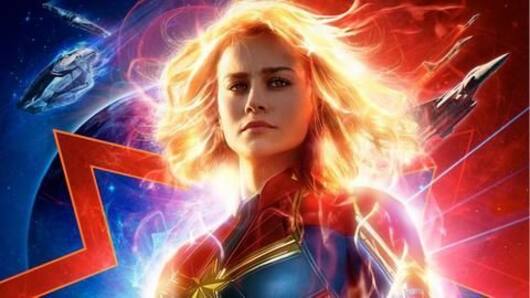 'Captain Marvel' directors sought 'Black Panther' director, Ryan Coogler's, help
Captain Marvel is about to zoom into theaters on March 8 and has fans hyped since it is going to be Marvel's first standalone female superhero movie.
Naturally, directors Anna Boden and Ryan Fleck were pressured by fan expectations when they first took up this project.
Therefore, they reached out to Black Panther director Ryan Coogler, whose film was enormously successful.
Read on.
Coogler's 'Black Panther' set a benchmark for superhero films
Credits:
Black Panther has become one of Marvel's finest superhero movies and set a benchmark for the genre itself.
Gaining critical and commercial acclaim, the film went on to amass a whopping $1.3 billion or Rs. 9,252 crore worldwide.
The film deftly weaved elements of superhero films, while raising questions about race and nationalism, which are increasingly becoming pertinent issues in today's global political landscape.
Coogler's advice to directors who were new to superhero films
Coogler, much like Boden and Fleck, was also new to the sci-fi infused world of superheroes, when he helmed Black Panther.
However, speaking from experience, he gave sound advice to the Captain Marvel directors, when they reached out for help, saying, "It's multi-years of your life. You better damn well like this character. And you better be telling a story you want to tell".
Love Entertainment news?
Stay updated with the latest happenings.
Yes, notify Me
'Captain Marvel' directors took Coogler's advice to heart
Credits:
The Captain Marvel directors might have been a little concerned when they first began circling the project, but having taken Coogler's advice, are now confident about the direction in which they have taken the film.
Boden added that despite sheer exhaustion while directing, "Just being able to be like, 'Phew. We love this movie and we love this character' has been really important".
What to expect from the upcoming 'Captain Marvel' movie?
The upcoming Captain Marvel movie will see Brie Larson play Carol Danvers or Captain Marvel.
It is going to be the superhero's origin story set in the 90s amidst an alien interracial war between Krees and Skrulls.
Boden said, "I think one of the really fun things about this movie, because it is an origin story, is that it's not your traditional origin story".
When is Captain Marvel releasing?
Asked 2019-02-11 00:03:08 by Hemant Chattopadhyay
Answered by NewsBytes
Captain Marvel releases on March 8.
When did Black Panther release?
Asked 2019-02-11 00:03:08 by Surabhi Jaiteley
Answered by NewsBytes
Black Panther released on February 16, 2018.
Who plays Captain Marvel?
Asked 2019-02-11 00:03:08 by Reyansh Sharma
Answered by NewsBytes
Brie Larson plays Carol Danvers or Captain Marvel.
When is 'Avengers: Endgame' releasing?
Asked 2019-02-11 00:03:08 by Sai Mukopadhyay
Answered by NewsBytes
Avengers: Endgame releases on April 26, 2019.