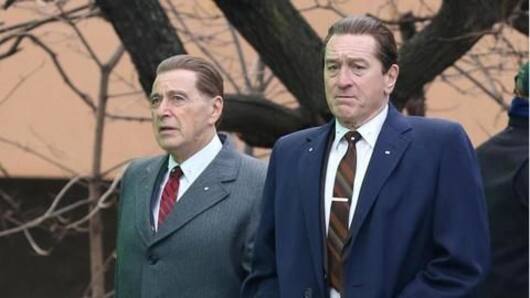 'The Irishman' shows younger Al Pacino, Robert DeNiro
The Irishman is the upcoming Martin Scorsese crime drama movie which is supposed to launch on Netflix sometime this October.
The film stars Hollywood veterans Al Pacino and Robert DeNiro, who are teaming up for the first time in a Scorsese film.
Now, Thelma Schoonmaker, Scorsese's longtime editor, has opened up about de-aging the stars.
Read what she had to say about it, here.
Thelma outlines the risky and ambitious plan of de-aging actors
Credits:
While it had long been confirmed Pacino and DeNiro would be de-aged in the film, we were unaware of this plan's ambitiousness.
Now Thelma says, "We're youthifying the actors in the first half of the movie. And then the second half of the movie they play their own age. So that's a big risk. We're having that done by Industrial Light and Magic, ILM".
Director and editor still undecided about de-aging's effect on film
Thelma reiterated about the project's expense and how Netflix was taking a big risk.
Speaking of the risky de-aging process, Thelma said, "But I haven't gotten a whole scene where they're young, and what I'm going to have to see, and what Marty's going to have to see is, 'How is it affecting the rest of the movie when you see them young?'"
Love Entertainment news?
Stay updated with the latest happenings.
Yes, notify Me
De-aging as a cinematic technique, and its problems
Credits:
For those unaware, de-aging is a visual technique used in movies to make actors look younger for flashback scenes.
Notably, fans might remember seeing a younger Robert Downey Jr. as Tony Stark in the Marvel movies.
However, de-aging is mostly used for short scenes, unlike the prolonged first half of The Irishman, and even then it is not a 100% convincing visual effect.
Concerns about Scorsese's production running out of time
While Scorsese's upcoming film has this writer excited as Joe Pesci, Al Pacino and Robert DeNiro appear in a movie, Thelma's news is cause for concern.
With the film months away from release, the fact that neither Thelma nor Scorsese have viewed a single scene of The Irishman with the de-aging technology is indeed worrying.
Hopefully, the production does not run out of time.
How old is Al Pacino?
Asked 2019-02-11 00:24:11 by Devansh Rangarajan
Answered by NewsBytes
Al Pacino is 78 years old.
How old is Robert DeNiro?
Asked 2019-02-11 00:24:11 by Trisha Pillai
Answered by NewsBytes
Robert DeNiro is 75 years old.
What are Martin Scorsese's best films?
Asked 2019-02-11 00:24:11 by Trisha Nair
Answered by NewsBytes
Taxi Driver, Shutter Island, Casino, Goodfellas are among Martin Scorsese's best movies.
What was Martin Scorsese's latest film?
Asked 2019-02-11 00:24:11 by Shaurya Subramanium
Answered by NewsBytes
Silence was Scorsese's last movie.