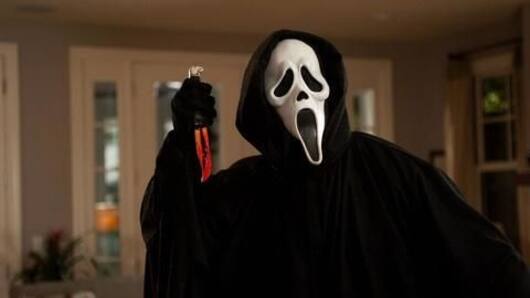 Lottery winner takes home millions wearing a 'Scream' Ghostface mask
A lot of people prefer anonymity when they get rich, especially if they get very rich suddenly due to a stroke of luck.
A. Campbell, Jamaican SuperLotto winner, certainly felt this way and showed up to collect his winnings in the Scream Ghostface mask, which is iconic in horror history.
If you like scary movies and prize anonymity, this is definitely the best way!
Sporting the mask and a white robe, Campbell collected millions
Credits:
Campbell went to collect $1.17 million or Rs. 8 crores when he found himself winning the SuperLotto lottery.
In order to hide his face while collecting his millions, the winner opted for the iconic Scream mask.
Thankfully he did not go for an accurate portrayal of the horrifying villain and opted for a white robe over the traditional black one seen in the film.
'Scream': A masterstroke in horror by Wes Craven
For those unaware, Scream is a 1996 slasher movie by horror master, Wes Craven. The film follows a mysterious killer called Ghostface who targets Sidney Prescott, a high school student played by Neve Campbell. Coincidentally, our lottery winner shares his last name with the protagonist.
Love Entertainment news?
Stay updated with the latest happenings.
Yes, notify Me
Campbell fell ill upon hearing he won the lottery
Campbell took 54 days before producing his winning lottery ticket. He claimed to have fallen ill.
The Jamaican said, "My head hurt me for three days because I was thinking so much, [Wondering] if what I've been longing for really come true. I had a belly ache for two weeks, sometimes I feel so much pain I forgot that I had won".
Campbell wished to hide identity probably to avoid being harassed
Campbell's appearance as the fictional slasher from Woodsboro is not completely surprising. Several past winners, especially from poorer countries like Jamaica, have chosen to hide their identities while collecting lottery winnings, to avoid being harassed on the streets later on.
When did Scream release?
Asked 2019-02-14 00:02:09 by Hansika Dutta
Answered by NewsBytes
Scream released back in 1996.
Who directed Scream?
Asked 2019-02-14 00:02:09 by Aradhya Gavde
Answered by NewsBytes
Wes Craven directed Scream.
What are some of Wes Craven's famous movies?
Asked 2019-02-14 00:02:09 by Vivaan Patel
Answered by NewsBytes
The Hills Have Eyes, A Nightmare on Elm Street are some of Wes Craven's famous works.
What genre does Scream fall in?
Asked 2019-02-14 00:02:09 by Vivaan Sengupta
Answered by NewsBytes
Scream is a slasher/thriller film.