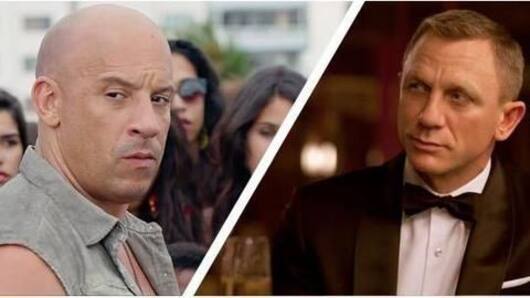 James Bond, 'Fast 9' movies get new 2020 release dates
Although we are barely into 2019, there is nothing stopping us from looking forward to the major releases in 2020.
In this context, next year's film calendar has seen a slight shuffle as of Friday, February 15.
Two major upcoming films from huge franchises have set new release dates.
These include the James Bond and Fast and Furious franchises.
Read all about it here.
Next James Bond film gets new release date
Credits:
MGM, which is handling the making of the new Bond movie, has pushed back the tentative release date to April 8, 2020.
Previously, the release was scheduled for February 14, 2020.
Notably, the new film will be directed by Cary Fukunaga, best known for working on HBO's True Detective Season 1, and will mark the last time Daniel Craig plays the charming British spy.
New 'Fast and Furious' movie gets pushed back as well
Universal Studios has also decided to push back the release date for the ninth film in the Fast and Furious franchise.
The new date for the film is slated as May 22, 2020, whereas the previous fixed date was April 10, 2020, which is very close to the new release date for the upcoming MGM Bond movie that we mentioned above.
Love Entertainment news?
Stay updated with the latest happenings.
Yes, notify me
MGM and Universal seem to have coordinated on new dates
For those unaware, Universal is handling the overseas distribution of the new Bond movie. Therefore, the decision to push back the dates for both the Bond and the Fast and Furious movie seems to be a coordinated effort between MGM and Universal.
New 'Fast and Furious' release date will see blockbusters clashing
Credits:
The ninth Fast and Furious film, which is appearing a year after the spin-off Fast & Furious Presents: Hobbs & Shaw releases, is set for a major clash.
The film, which is going to be directed by Justin Lin, a veteran director of the franchise, is clashing with the blockbuster Godzilla vs. Kong crossover event movie, which is being produced by Warner Bros.
How many films have been there in the James Bond franchise before?
Asked 2019-02-16 18:25:13 by Aradhya Yadav
Answered by NewsBytes
Considering the 2020 film is going to be 25th film in the franchise, there have been 24 James Bond movies before this.
When is Hobbs and Shaw releasing?
Asked 2019-02-16 18:25:13 by Vivaan Jhadav
Answered by NewsBytes
Hobbs and Shaw is releasing on August 2, 2019.
What movies has Daniel Craig played James Bond in?
Asked 2019-02-16 18:25:13 by Anika Rao
Answered by NewsBytes
Craig has played Bond in Casino Royale, Quantum of Solace, Skyfall and Spectre.
Who is the villain in Hobbs and Shaw?
Asked 2019-02-16 18:25:13 by Rishika Chavan
Answered by NewsBytes
Idris Elba plays a superpowered villain in Hobbs and Shaw.